BuaNews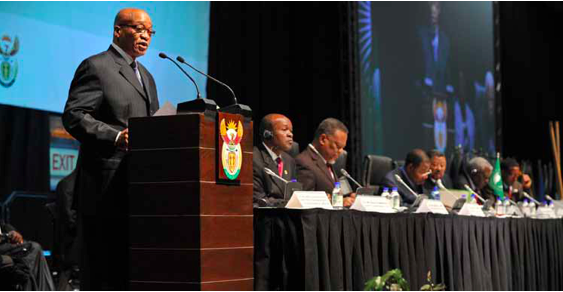 Photo caption: President Jacob Zuma addresses delegates at the closing of the Global African Diaspora Summit.
The Global African Diaspora Summit must write a new story – that Africa is no longer the dark continent, but it is rising, said President Jacob Zuma at the opening ceremony of the summit.
Referring to the African *diaspora, President Zuma said the summit must have meaning for people on the continent and change the realities of their circumstances.
"It must be a story that says Africa, working with its diaspora, will move faster to meet the Millennium Development Goals."
The African Diaspora Summit, which took place in Johannesburg at the end of May, was attended by several current and former heads of state and government. They adopted a set of legacy projects which will strengthen the contribution of the diaspora to the continent.
Legacy projects
The projects include a fund that will provide a platform through which the African Union Commission will attract the African diaspora to contribute to the development of the continent. According to the AU, the continent would require about US$60 billion in the next 10 years to meet its infrastructure needs.
Noting that Africa had a low level of infra- structure networks and poor access to energy and information services among other things, the summit further agreed to speed up Africa's infrastructure development needs.
In this regard, they resolved to increase public financing of infrastructure by implementing major power projects in the areas of hydroelectricity, oil refinery, the acceleration of missing links and the modernisation of railways and increasing the capacity of the continent's ports.
Renewable energy
They also committed themselves to developing new and renewable energy resources to provide clean, reliable and affordable energy, as well as nuclear energy.
The summit regarded the success of these projects as one of the pillars of the continent's economic integration.
Legacy projects adopted also included a Diaspora Volunteer Programme which will associate the diaspora directly with the development efforts of the continent. It is hoped that the program will also give concrete meaning to the concept of the "African family".
The summit was of the view that through education and skills development Africa would conquer the ills of poverty, unemployment and underdevelopment.
Others included the adoption and promotion of the Development Market Place for an African Diaspora model as a framework to encourage innovation and develop entrepreneurship to empower the youth of the continent and her diaspora.
Africa is happening
Speaking at the closing of the summit, President Jacob Zuma said resolutions taken at the summit, as well as the announcement that South Africa would share in the hosting of the world's most powerful radio telescope – the Square Kilometre Array (SKA) telescope, demonstrated that Africans were more than capable of successfully taking their destiny in their own hands.
"Africa is here. Africa is rising. Africa is happening and no one will stop us because we have what it takes to make it work," said Zuma.