Thalia  Anderson - Department of Health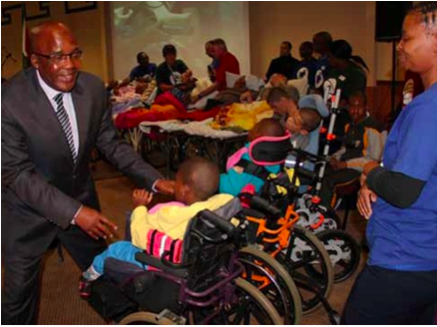 Photo caption: Children from Little Eden Care and Rehabilitation Centre in Edenvale, delighted delegates at the Mental Health Summit with a musical performance. This shows that intellectually disabled children are able to accomplish much with proper stimulation. Minister Motsoaledi took time to interact with the children.
No one is immune to mental illness, which can affect people of any gen- der, race, age or status. July has been declared Mental Health Month to raise awareness of this particular challenge. In anticipation of issues to be addressed during Mental Health Month, the department hosted a two-day summit in Centurion recently.
There can be no health without men- tal health. This is one of the messages mental health.
The recent Mental Health Summit brought together officials, mental health partners and users of mental health services, with delegates taking stock of progress in improving the mental health system.
The summit prioritised key challenges and key interventions in the overhaul of the mental health system. Delegates signed a declaration committing them to improving mental health services.
Discrimination
Addressing the summit, Minister of Health Dr Aaron Motsoaledi said while there had been important reforms in mental health policy and legislation since 1994, mental health services remained largely under-resourced, inaccessible, and inequitably distributed.
He noted that there was currently only one psychiatrist for every 30 000 people in the private health sector and one per 120 000 people in the public sector.
The Minister also raised concerns about the continuing stigma and discrimination surrounding mental health. Urging delegates to deliberate and propose ways to de-stigmatise mental disorders, he said stigmitisation was mainly due to ignorance and a lack of information.
Well-being
Minister Motsoaledi said mental health was crucial to the overall well-being of South Africans and that increasing investment in mental health was therefore central to the Department of Health's efforts towards improving public health.
Investing more in mental health will result in individuals and communities that are better able to realise their own abilities and cope with the stresses and conflicts that are part of everyday life, he said.
For more information contact the Department of Health: 012 395 8000