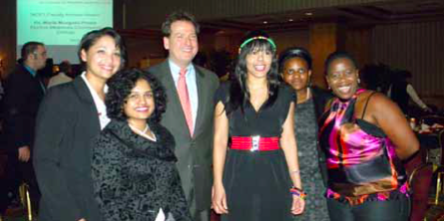 Photo caption: Lieutenant Governor Brian K Krolicki from Reno, Nevada (third from left), hosted a Governor's Award ceremony for the young entrepreneurs. With him is from left: Abigail Florence, Afsana Khan, Mildred Fortuin, Ditebogo Rametse and Freda Matseke.
A group of young entrepreneurs had a life-changing experience earlier this year when they were exposed to how business is done in the United States. What stood out for them was that the American youth have much more confidence in their own abilities.
The National Youth Development Agency (NYDA) in partnership with Evo Media and IBA-Global sent 14 young South African entrepreneurs to the United States on a six-week business mentorship programme earlier this year. As part of the Young Entrepreneurship Programme (YEP), the aim was to get them on par with their international counterparts.
Through the programme, young entrepreneurs are exposed to mentors who help build their business confidence and enable them to increase the profitability and sustainability of their businesses.
The highlight of the programme was the six-week mentorship in Lake Tahoe Reno, New York and California. The in-classroom training at Sierra Nevada College and Lake Tahoe Reno gave the entrepreneurs the theoretical experience to guide them through their businesses.
An estimated 80 per cent of new jobs globally are created by SMMEs. In a country where 77 per cent of its youth are unemployed, SMMEs serve to alleviate the scourge. The sector employs a projected 1,5 million jobs locally and contributes 40 per cent to the country's gross domestic product. At the end of their six weeks, the 14 candidates received a 9-credit Entrepreneurship Certificate. During their stay, their US-based mentors visited the candidates, giving them much-needed exposure and helping them to identify business opportunities and best practices overseas.
Building confidence
What stood out most for Freda Matseke from North West was the confidence that youngsters and people from America had. Matseke runs her own consulting company that helps young people with career development.
"What I find is that the youth in South Africa lack confidence in themselves and in their ideas. Yet the Americans have mastered the art and can basically sell you anything because they are confident about their products."
Matseke says the South African youth should believe in themselves; she now applies what she has learnt in America and is able to help the youth in South Africa be more self-assured, and carry out their plans with confidence.
According to Mildred Fortuin, one of the young entrepreneurs  from  the  Northern Cape, attending the YEP programme has been a life changing experience. Fortuin, who owns an events company and a small fashion boutique says she is now able to take her businesses to the next level, something she would have never been able to do had she not been exposed to the way businesses develop in the Unites States.
Great partnerships
"Being exposed to the various industries of business overseas, I am now able to compare the growth of businesses to South Africa. I am now able to see the vision of my brand and my goal is to become the first fashion brand owned by a person and not by a huge retail company."
"I saw places I had never seen and experienced the tourism industry like I have never before. In the States there are great partnerships, people work together and from a university level they are taught to start up a business and become entrepreneurs.
"If we had this idea implemented at our universities we could tackle the high rate of unemployment in this country. Where students are taught at university level the skills to start and manage their own business so they in turn can create job opportunities for themselves and for others."
For more information, call the NYDA Call Centre: 08600 96884, or send a fax to: 086 606 6563