Samona  Murugan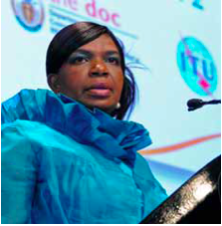 Photo caption: Communications Minister Dina Pule officially opens the ICT Indaba 2012.



Photo caption: New set top box.
High definition, digital television broadcasting is no longer only the privilege of those who are wealthy. Government has started to guide all South Africans on the journey to a new era of digital broadcasting that will see us receive television of exceptional picture and sound clarity.
In 2005, the International Telecommunications Union announced that countries in Africa and other regions must move their television broadcasting to a digital platform. Since then, the Department of Communications has been working hard to ensure that all the necessary work is done to enable a smooth transformation of our broadcasting.
The project called Go Digital South Africa is taking South Africans to an era of digital television that also brings a wider choice of television channels to ordinary people who view free-to-air television. This includes SABC 1, 2 and 3 and e-TV.
These services, including regional television, which are currently broadcast in an analogue format, will now be moved from analogue to digital broadcasting.
What is the difference between analogue and digital TV?
Television uses a network of transmission towers to relay signals. Each transmission tower has a specific area of coverage, and it is the network of coverage that provides television signals across the country.
The broadcast signal is sent to the various towers and if you are within the area covered by a tower, you will be able to receive the broadcast services via a TV aerial – which is usually placed on your roof or on your television set.
In analogue, the signal is transmitted in the form of electromagnetic waves. This is not the most efficient way of transmitting TV signals. In digital, the signal is encoded and can be compressed – this will therefore allow for more channels to be broadcast.
Why are we moving from analogue to digital?
The main reason for the world to change to digital broadcasting is to release valuable spectrum which can be used for other services. Spectrum is scarce and is necessary if more telecommunications and broadcasting services are to be made available. South Africa also coordinates its frequency plans with other countries to ensure that there is no interference between various countries' broadcasting signals. Currently, analogue broadcasting is protected from interference, but this protection will stop by 2015. It is therefore necessary to complete the change from analogue to digital by 2015.
Will I need any equipment to receive digital television?
You will need to have a digital decoder to receive the new digital signal called a set-top box (STB) decoder, which was recently lauanched by the Department of Communications and the South African Bureau of Standards for free-to- air digital terrestrial television.
The STB decoder operates in conjunction with an analogue television receiver minimising additional expense for the public while providing good quality video and sound.
The standard ensures that the final STB decoder is low maintenance and includes an access control mechanism to prevent decoders from being used outside South Africa.
South Africa will now comply with the 2006 resolution of the Regional Radio Communication Conference.
This decoder is not the same as the Multichoice satellite box or the current MNet decoder. The digital decoder is a receiver that will decode the digital signal to enable the channels to be displayed on your analogue television set. The digital decoder will plug directly into your TV set, just like your dvd player. It is estimated that the retail cost of the free-to-air digital decoder will be about R700; a once-off cost when you buy the decoder. Digital decoders are not yet available for sale to the public, but will most likely be available soon.
Will I need to buy a new TV set to receive digital TV?
No, you do not need to buy a new TV. All current analogue television sets will be able to receive digital TV. You also do not need a high definition (HD) TV, LCD TV or Plasma TV to receive digital TV.
NO television sets that are currently for sale will be able to receive the digital TV channels without the digital decoder. A TV that is 'digital ready' or 'HD ready' does not mean that it can receive the digital TV broadcasting without a digital decoder. However, you should be cautious of buying old analogue technology products just because it is cheap. Analogue technology is being phased out around the world.
What can I do if I cannot afford the digital decoder?
Government has plans to assist needy house- holds with subsidies to enable them to buy digital decoders.
Details of the subsidy will be made public once government is ready and it will be announced in the media.