The Expanded Public Works Programme (EPWP) is one of several government strategies aimed at addressing unemployment. It involves creating temporary work opportunities for the unemployed combined with training, education or skills development with the aim of increasing their chances to earn an income once they leave the programme. We look at some of the EPWP success stories.
Gaining valuable skills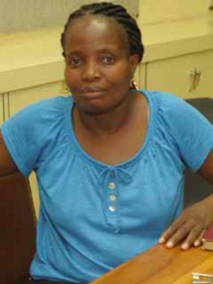 Photo caption: Josephine Sondlana.
Josephine Sondlana is a widowed mother of four. She matriculated in 1995, in the small village of Elim, near Giyani outside Polokwane. A matric certificate was highly valued at the time and her hopes were high that she would find a job. Unfortunately jobs were scarce and her dreams of making a decent living were shattered.
One of her four children is currently studying at the Tshwane North College in Pretoria. This, she says, would not have been possible if it wasn't for an Expanded Public Works Programme (EPWP) project she joined in 2009.
"The Tivoneleni Bakery Project changed a lot of things in my life. Now I'm proud that my daughter is at a tertiary institution, study- ing towards a better future. I also gained valuable skills like food preparation and hygiene, and general baking skills."
Sondlana says while other beneficiaries were bought TV sets and fridges, she saved for her daughter's education. "I saved almost all my stipend money for her registration fees.
"… without the EPWP, she would be staying at home, doing nothing. I joined the project with the clear intention of saving for her education, and I'm grateful that this dream has been realised."
Before the project, Sondlana was selling wood in the community just to make ends meet. "I was also doing temporary jobs for people so my kids could eat. It was difficult, but I survived. I really hope EPWP can give us more projects, so my daughter can succeed."
Planning a bright future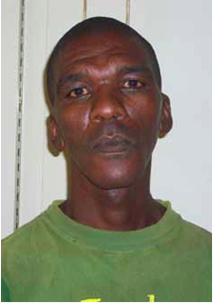 Photo caption: Tshepo Motshabi
Twenty-five-year-old Tshepo Motshabi comes from a family of three, and completed Matric in 2007. Passing Matric was a highlight, but he was uncertain about his career.
His father had passed away in 2005, and with his siblings still at school, he was forced to be the family's breadwinner. He enrolled in different short courses to be more employable, but he still struggled to find a job.
He then heard about the Expanded Public Works Programme (EPWP) Philani Health Centre Project and joined as a data capturer.
"I was blessed to be involved with the project, because I was starting to get desperate for a job. I must admit that this project saved me from many things I could've done in desperation. I benefited a lot from the project, and gained experience that will help me in future."
Motshabi says he'd like to further his studies in the near future, as he doesn't want to be a data capturer forever. "I'm currently saving to study further, as I want to have a bright future. I'm also able to support my family and buy clothes with the money I earn."
Motshabi used his first-ever stipend to subscribe to the TopTV pay channel, as his family has always wanted it. He says they're comfortable now, because money is no longer the challenge it was before.
"I wish more EPWP projects can be launched, so that people from the community can get opportunities like I did. That will really uplift the community."
Motshabi says though he lost his father, he has never lost his self-belief. "people should believe in their abilities and grab all the opportunities that may come their way."
No clubbing for me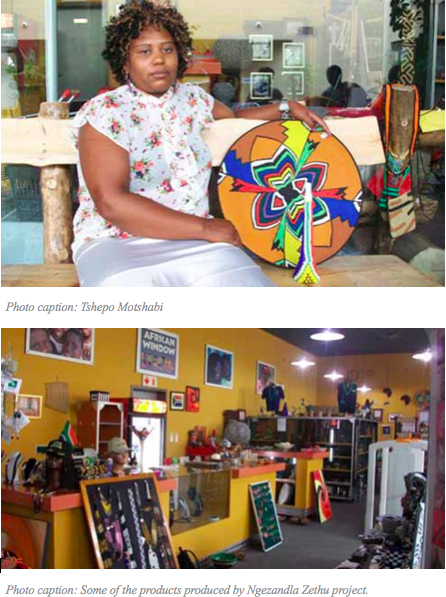 Ntombi Thabedi, a bright young woman from Soshanguve on the outskirts of Pretoria, is 25 years old. She lives with her un- employed mother and her younger brother. Unlike most young  people, Thabedi doesn't have time for clubbing and other social activities. "When I have free time, I study or spend it with my family," she says. Having lost her policeman father some years ago, the family is dependent on his South African Police Service monthly allowance.
However, the money they get from government is not enough. "It pays for my little brother's computer training and buys food. It's not enough to pay my study fees."
Thabedi is studying for a degree in Chemical Engineering at the University of South Africa. Besides studying, Thabedi is also involved in an EPWP embroidery project called Ngezandla Zethu.
Instead of using the money she earns to buy fancy clothes or the latest cellphone, she pays for her studies. "My mother can- not pay for both of us to study at the same time, so as the older one I decided to lead by example and pay for myself. I could not have achieved this had it not been for the EPWP stipend. With EPWP's help, my brother and I can both study.
"Education is the only option I have; I want to make my mother proud and I want to be successful so that my family can have the best of everything. This project has been very good to me and I hope many young people will have an opportunity to turn their lives around through it."
For more information, call the Department of Public Works: 012 310 5134 or the toll-free number for Artisans and Engineers: 0800 782 542