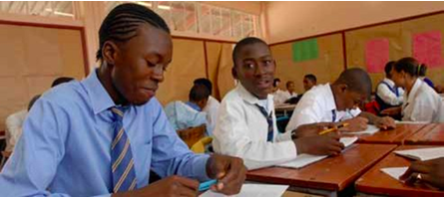 Photo caption: To celebrate Mandela's legacy, the infrastructure in at least 94 schools throughout South Africa will be improved.
In anticipation of former President Nelson Mandela's 94th birthday on 18 July, the Department of Basic Education has joined forces with the Nelson Mandela Foundation to honour Madiba's dedication to education with the "94+ Projects for Madiba" campaign
Former President Nelson Mandela is famously passionate about his commitment to quality education for all children in South Africa as part of a better life for all.
The main aim of the 94+ Projects for Madiba campaign is to celebrate Mandela's legacy by improving infrastructure in at least 94 schools throughout South Africa and give hope and dignity to those attending these schools.
Urgent attention
Since 2000, government has considerably improved school infrastructure, but there are still many schools that require urgent attention. Just over a quarter of public schools are in a very poor condition; physical infrastructure and other facilities have not kept up with the requirements of recent curricula reforms.
The 94+ Project aims to mobilise learners, teachers, parents and members of the broader community to support education by getting them to volunteer and show responsibility to provide quality education for all.
The Department of Basic Education has identified at least 94 schools, spread across all nine provinces, which are in dire need of an upgrade.
Labs and libraries
The project will include the renovation of school buildings, installation of water and sanitation facilities, construction of admin blocks, fencing of schools, provision of desks as priorities for all the 94 identified schools.
Where possible, libraries and laboratories will also be built and grounds will be improved through landscaping and gardening to create an environment where teachers and learners can enjoy spending time.
Sponsors from the business sector, in collaboration with government departments, have identified specific schools to assist.
The call goes out to all South Africans to play their part in making this campaign a success. So, let us ensure that all of us take action; inspire change; make every day a Mandela Day by doing something in our communities, especially at schools to ensure that Madiba's dream becomes a reality.
For more information, call the Department of Basic Education on 012 357 3000 or call their toll-free hotline: 0800 202 933