Department of Social Development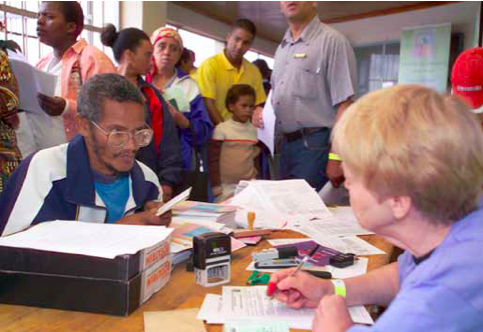 Photo caption: The re-registration of social grant recipients will ensure that fraud and corruption are detected and eliminated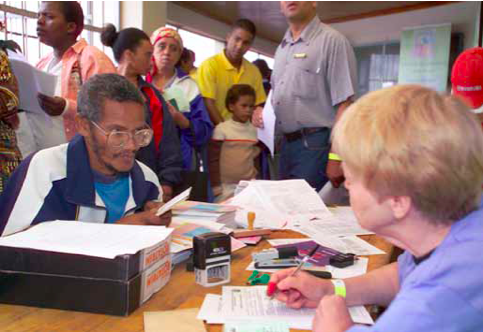 Photo caption: If a social grant recipient is too old or sick to travel, a family member or friend may apply on their behalf.
The South African Social Security Agency (SASSA) has started to re-register all social grant beneficiaries on their new biometric system.
Biometric verification is a process by which a person's unique physical and other traits are detected and recorded by an electronic device or system as a means of confirming identity, for example scanning of fingerprints.
The existing eligible beneficiaries including bank beneficiaries and children will be registered with the new biometric-based payment system at SASSA pay points, local offices and designated sites.
The re-registration process is being done to eliminate and detect fraud, as well as corruption within the social grant system and to ensure that grants are being paid to the right people.
The right person
SASSA has also developed a new payment model to be supported by effective administration and management system to enable it to directly pay "the right social grant to the right person". This new system will further help government to save R800 million a year.
The Cash Paymaster Services, which was awarded a tender by SASSA, will continue the payment of social grants for the next five years at a reduced cost.
Requirements to re-register
•    the primary care giver must be a South African citizen or permanent resident;
•    both the applicant and the child must reside in South Africa;
•    the applicant must be the primary care giver of the child/children concerned;
•    the child/children must have been born after 31 December 1993;
•    the applicant and spouse must meet requirements of the means the cannot apply for more than six non-biological children
•    child cannot be cared for in State institution.
Where to apply for grants
•    Apply at a SASSA office nearest to where you live.
•    If you are too old or sick to travel, a family member or friend can apply on your behalf.
•    Your application form will be completed in the presence of an officer from SASSA.
•    When your application is completed you will be given a receipt; keep this receipt it is your only proof of application.
•    You do not have to pay any money to apply.
If SASSA does not approve your application, you must be informed in wirting why your application was unsuccessful. If you are not satisfied with the explanation, you do have the right to request SASSA to reconsider its decision. If the reconsidered decision is still unacceptable, you have the right to appeal to the Minister of Social Development.
The request to reconsider the decision must be made within 90 days of you being informed of the outcome of your application.
For more information call the SASSA Hotline: 0800 601 011