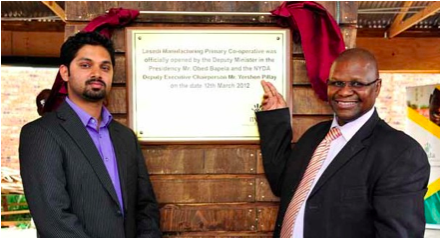 Photo caption: NYDA Deputy Executive Chairperson Yershen Pillay and Deputy Minister in the Presidency Mr Obed Bapela at the launch of the Lesedi Manufacturing Primary Cooperative in Alexandra
The National Youth Development Agency (NYDA) is celebrating 2012 - International Year of Cooperatives by educating the youth on forming and registering cooperatives and raising awareness of the advantages of creating jobs through co-ops. For them, it is also an opportunity to focus on greener communities.
United Nations has declared 2012 the International Year of Cooperatives (IYC) to raise awareness of the contribution of cooperative enterprises to reduce poverty, generate employment and integrate society.
The IYC also highlights the strengths of the cooperatives as an alternative way of doing business and boost socio-economic development.
The National Youth Development Agency (NYDA) is committed to supporting cooperative enterprises, especially in small communities with the emphasis on "green" cooperatives. With this in mind, the NYDA's Deputy Chairperson, Yershen Pillay, has launched an awareness drive to encourage unemployed and disillusioned youths to start green cooperative enterprises. This would create employment with significant focus on 'greening' their communities.
Uplift and sustain
"Cooperatives serve to uplift local communities in sustaining job creation, retaining valu- able locally developed skills and supporting family and social structures. The NYDA is urging young people to identify requirements within the communities and build partner- ships that could result in successful community cooperative enterprises." Pillay said.
The Lesedi Manufacturing Primary Co- operative, which has been operating since 2008, is an example. They used an amount of R1,1 million received through the NYDA Enterprise Finance division for 36 months, to build offices and buy equipment and for working capital.
They recycle cans, cardboard, paper, glass and collect plastic within the community. This has enabled them to turn a community litter and pollution problem into a viable business solution.
"We were motivated to recycle because any- body that has ever been to Alexandra knows that our community is very dirty. We have the support of the community because we are women known to be doing great things in the Alexandra," said Zoleka Ntshololo, a founding member.
For more information, call the NYDA :08600 96884, or fax: 086 606 6563