BuaNews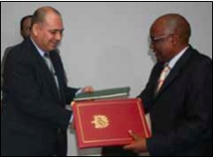 Photo caption: Minister of Health Aaron Motsoaledi, right,  and his Cuban  counterpart Roberto Orales Ojeda exchange documents after signing the  agreement of cooperation.
South Africa's healthcare system will receive a major boost in human re- sources following the recent signing of an agreement of cooperation with the Cuban Ministry of Health.
Signing the agreement in Pretoria with Cuban counterpart Roberto Morales Ojeda, Health Minister Aaron Motsoaledi noted that it marked a major milestone in the 16-year partnership between the two countries' ministries of health.
He said the agreement would strengthen South Africa's healthcare system in the following areas:
-    implementing the National Health Insurance (NHI)
-    overhauling the healthcare system by refocusing on primary healthcare and improving the functionality and management
-    improving human resources, planning, development and management
-    strengthening research and development with a focus in biotechnology exchange and innovation.
Rural communities
Minister Motsoaledi noted that the two countries first entered into agreements in 1995 with the aim of strengthening South Africa's human resources in healthcare, especially in rural communities, through the recruitment of Cuban doctors.
This was followed by initiatives which al- lowed South African medical students to be trained in Cuba.
"To date, 304 medical doctors have been produced out of 808 recruited in the programme, with 406 currently undergoing medical training in Cuba; 98 are doing final clinical training in local medical schools and 34 medical students are graduating this year," the Minister added. He noted that Cuba had the capacity to train as many as 1 000 South African students a year. South Africa is expected to send 500 students in September, but that number could still increase.
Medical soldiers
South Africa and Cuba have agreed to resume the recruitment of Cuban doctors for South African hospitals after this initiative was put on hold a few years ago.
"The South African counterpart has identified close to 208 posts in different speciality areas where these doctors will be posted. A team of experts will soon visit Cuba to work with Cuban experts to identify suitable professionals," Motsoaledi said.
"We are sending an army of white-coated soldiers who are taking health to the most remote corners of the world. This is our contribution to the building of a better world," Ojeda added.