Great strides for school sport
BuaNews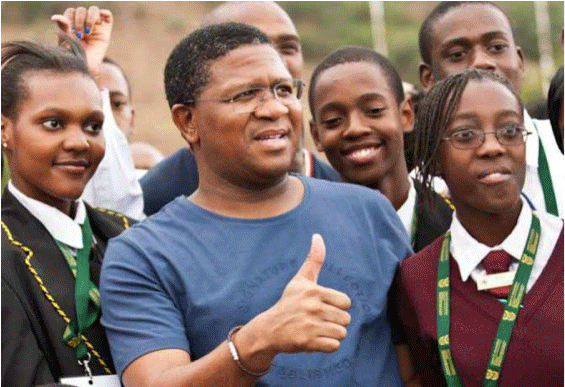 Photo caption: Minister of Sport and Recreation Fikile Mbalula with a group of school children in Mamelodi during the launch of Magnificent Wednesdays
It is no secret that the educational and developmental value of sport is immense. Government has therefore invested enormous resources in the school sport programme and has earmarked school sport as a priority area for delivery this financial year, said Minister of Sport and Recreation Fikile Mbalula. Tabling his department's Budget Vote in Parliament recently, Mbalula said the School Sport budget within his department had increased from R27,3 million in the previous year to R42,6 million for this financial year. "We have as government invested enormous resources in our School Sport Programme and we are now finalising our engagement with the National Distribution Agency on Sport and Recreation to allocate R200 million towards our School Sport Programme," he said.
Continued support
Mbalula said the department would continue to support schools in the delivery of sport programmes and empower educators in code specific coaching, team management and sport administration, with the focus being on the 16 priority sporting codes.
"The aim is to ensure that all learners in South Africa are provided access to an organised and structured system of sport that offers opportunity for mass participation, talent support and high performance.
Mbalula said the ultimate goal in increasing access to school sport was to increase the athlete base in the country, thus improving the talent pool and improving South Africa's performance internationally.
The Sport Support Services Programme also received a significant increase of over R25 million – this is up from R162 million to R187,3 million - mainly to support federations in sport development projects.
To guarantee that all learners have access to physical education and sport programmes, the department signed a memorandum of understanding with the Department of Basic Education for the delivery of physical education and sport programmes in all South African schools.
The roll-out plan of the School Sport Programme is underpinned by three critical components, namely physical education, top school leagues and Youth Olympics.
Top schools
Mbalula said they had already completed the process of registration of schools that wish to participate in the School Sport Programmes, especially in the national School Sport Leagues, which will culminate in the national Top Schools final championship in December.
"Thus far we have managed to register 11 000 out of 27 000 schools for participation in the 2012 School Sport Leagues and Competitions," he said.
Mega events boost infrastructure development
BuaNews
Earlier this year, South Africa was named the "World's Leading Sports Tourism Destination" at a glittering global awards ceremony in Dohar, Qatar.
Commending South Africa for having achieved this prestigious distinction, Sport Minister Fikile Mbalula said this was because of the positive results of hosting sporting events like the Cricket World Cup, Rugby World Cup and the 2010 FIFA World Cup, as well as other mega sporting events.
These events, especially the 2010 FIFA World Cup has demonstrated the importance of sport as a channel for infrastructure development and a platform upon which social mobilisation can be achieved, the Minister said.
Delivering his 2012/13 Budget Vote in May, Minister Mbalula said the 2010 FIFA World Cup Country Report spelled out the benefits of organising and hosting mega sporting events. Quoting from the report, Mbalula said, "The South African government invested more than R30 billion in infrastructure which included roads, airports, ports, stadia and telecommunication.
"The approximately R11,7 million investment in 10 FIFA 2010 stadia alone created approximately 66 000 new construction jobs, generating R7,4 billion in wages, with R2,2 billion going to low-income households and therefore contributing to a reduction of poverty and unemployment."
SA hockey ready to take on the best in London
BuaNews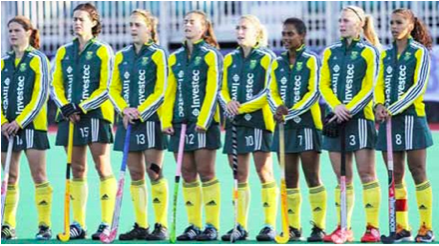 Photo caption: The South African women's hockey team sing the National Anthem before a match against Germany earlier this year. (Photographer: Ady Kerry)
Confident that they will make South Africans proud of their performance, our well-prepared and enthusiastic hockey teams are ready to take on the best at the London Olympics.
As they join their soccer counterparts Banyana Banyana on the road to the London Olympics, the South African women's hockey team is confident that they can achieve a top six finish. "A top six finish would be a fantastic result. It will be incredibly tough to achieve, but I think it is within our reach in London," said veteran skipper and teammate Kate Woods.
"To be training for a goal such as the Olympic Games makes all the training, hard work and sacrifices worthwhile. Representing your country in itself is a great honour, but once you had competed at Olympic Games, it takes your career to an all-time high. It's an experience of a lifetime and I will cherish the memories forever," said Cape Town based Woods.
"Playing for South Africa is extremely special. It is something that I treasure and will always work hard to ensure that I never miss out on the opportunity to put on green and gold and sing our national anthem with pride," said Marescia.
Men's team
South Africa's men's hockey team joined their female counterparts in qualifying for the Olympics when they defeated Japan 2-1 in the final qualifying tournament.
Praising the team for their fi    spirit Sport Minister Fikile Mbalula said our qualification standards had been set a bar higher this year compared to previous years. This was done to instil a culture of a winning nation and to ensure that the team that will compete in London is a quality team that can bring back more medals to South Africa than was the case in Beijing 2008, the Minister said.
"We have seen earlier on, in the qualifier championships that our women's teams are leading the pack with Banyana Banyana and the national Women's Hockey team, affectionately known as the Smoothies, qualifying for the 2012 London Olympics. Banyana Banyana and the Smoothies have made us proud through their actions and commitment," Mbalula said.
More medals
In congratulating teams that have already qualified for the Olympics, Mbalula said, "We hope and trust that our investments in the preparations will not be in vain.
"We hope that the support they have received from us, together with the National Distribution Agency for Sport and Recreation and the business sector, will go a long way in bringing more medals than the Beijing 2008 Olympics."
For more information, call Sport and Recreation South Africa : 012 304 5000