Ndyebo Kopo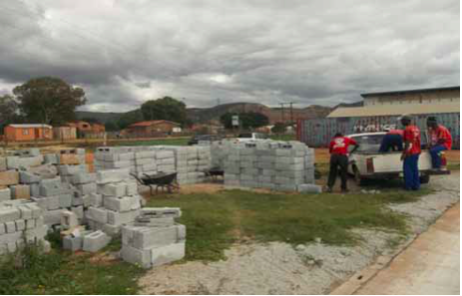 Photo caption: The Department of Social Development encourages young people to start incoming-generating projects such as the Masiphumelele Youth Brick-making Cooperative, by providing start-up capital and business management training.
Young people and the community at large must stop complaining and expecting to receive things on a silver platter, says Nosisi Dayimani, a member of the Masiphumelele Youth Brick-making Cooperative in Center- ton, Hankey. "They must stand up and make things happen for themselves; be their own employers."
The brick-making cooperative was started by 15 young people in 2005 after an information session facilitated by the Department of Social Development to encourage young people to start income-generating projects.
Funding
The project now has five members and five casual employees, who make the bricks and deliver them to customers.
The project, totalling R500 000 was funded by the Department of Social Development. The cooperative received three instalments starting with R250 000 in 2005 as start-up capital, R125 000 in 2007 and the remaining amount in 2011.
"The funding assisted us a great deal and as a result we were able to buy machinery, uniforms, office equipment and raw materials to sustain the project", said Nombulelo Katoo a member of the cooperative.
Before receiving funding, the group underwent business management training facilitated by the Department of Social Development through Fort Hare University, the Small Enterprise and Development Agency (SEDA) and the Eastern Cape Department of Economic Development, Environmental Affairs and Tourism.
After receiving the start-up funding SEDA appointed a mentor for the group to assist with the management of the business.
When asked how the project has changed their lives, the group explained that they had no source of income before they started the co-op, but now they are able to support their families. Dayimani is now the breadwinner and supporting her family of eight.
Job opportunities
The project has grown and provided opportunities for others by employing five casual workers and recruiting learners during the school holidays. Learners are trained in brick-making skills and earn some money.
The group also started an agricultural project as a social responsibility outreach for the community. They supply vegetables to orphans, the poor and to people living with HIV and AIDS in their community.
Urging other young people to follow their example, Dayimani said, "It makes us proud to be able to give back, and it is so nice to see many of the RDP houses in this area being built from our building blocks."
For more information, call the Eastern Cape Department of Economic Development, Environmental Affairs and Tourism: 043 605 7000 or visit their website: www.dedea.gov.za