Kgati  Sathekge - Retired Public Servant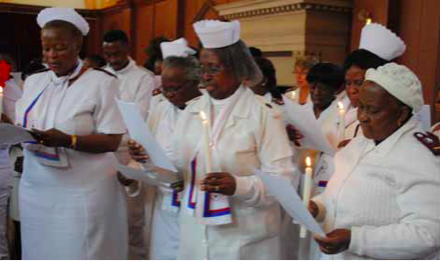 Photo caption: With candles lit, nurses at the Weskoppies Psychiatric Hospital in Pretoria recite the Nurse's Pledge to mark International Nurses Day.
In a moving ceremony to mark International Nurses Day recently, psychiatric nurses at Weskoppies Hospital in Pretoria rededicated themselves to their calling.
As part of a candlelit ceremony, the nurses jointly recited the Nurse's Pledge.
With the mandatory pledge, nurses promised that the care of patients would be their number one priority. At the Weskoppies event, nurses related what it meant to be a nurse and reminded themselves why they had chosen this selfless profession.
The white-clad men and women  are charged with looking after the needs of mentally ill patients at this historic hospital, which was established in 1892 as the first of its kind in what was then known as Transvaal.
According to Hospital CEO Maureen Mabena, "every nurse must take the baton and restore the profession to its glory. Taking care of a person until after death is what we do. The functions have not changed. We must also know about patient rights. Without a patient, there is no work."
Weskoppies houses approximately 460 mentally ill patients, and treats about 1 000 outpatients a month.
International Nurses Day is traditionally observed throughout the world in May to celebrate the anniversary of the birth of the iconic Florence Nightingale.