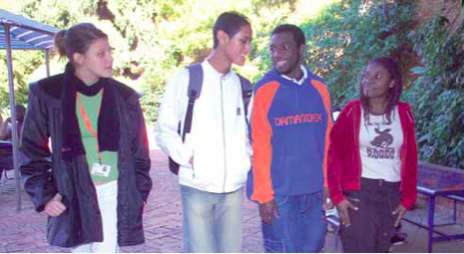 Photo caption: Learners are urged to register for the 2013 Senior Certificate exams before 30 September this year.
Candidates who want to write the old Senior Certificate exams are urged to register for 2013 at any Provincial Education Department office before 30 September 2012.
Registration for Senior Certificate exams in 2013 is only open to candidates who sat for the Senior Certificate examinations previously and failed to satisfy the requirements for the award of a senior certificate.
As the Department looks to phase out the Senior Certificate, first time registrations will not be allowed. The Department of Basic Education is committed to ensuring that all candidates have the opportunity to complete Grade 12.
A matric certificate can open a number of career opportunities to candidates, who are able to apply for jobs requiring a Grade 12 qualification. Having a Grade 12 certificate also provides an opportunity for learners to continue their education at a higher or further education institution.
In view of the high unemployment and skills shortage, reducing poverty depends on giving all South Africans a better educational start in life. Thus, to achieve growth and success for our country, it is essential that all South Africans have the opportunity to complete their education so that they can pursue the career of their choice.
Government's vision is for a country with decent employment opportunities, modern infrastructure and a vibrant economy that will provide all South Africans with a high quality of life. To achieve this goal we need a workforce with the appropriate skills and this can only come through education.
Register
To register for the 2013 Senior Certificate exams, candidates will have to present a valid identity document, and previous Senior Certificate statement of results to the Provincial Departments of Education.
The department has made previous question papers and examination guidelines available on its website to assist candidates with their preparations for the exams, which will take place in May and June 2013. To access these, you can go to, www.education.gov.za.
The final timetable for the 2013 Senior Certificate examinations will be available from September 2012 on the department's website.
Contact details of officials dealing with Senior Certificate examinations at Provincial Education Departments: