Cobus Coetzee - Mpumalanga Provincial Government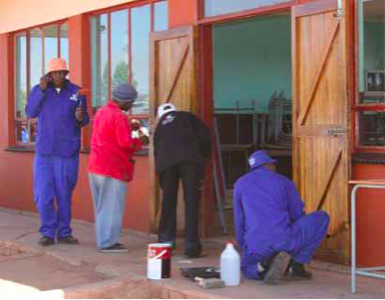 Photo caption: Parents and community members work together to improve the Mbulawa Senior Secondary School in Mpumalanga.
Mpumalanga's Education Department plans to "mend its ailing schools" by spending R692 million on 178 projects this year, including building, upgrading and maintenance.
"We are willing to ensure all our schools are in a good state for the enhancement of teaching and learning," said MEC of Education Reginah Mhaule.
Budget
The province will do the work with money available from this year's budget, but billions are still needed to eradicate the full backlog in infrastructure to ensure all 1 868 schools in the province were up to standard, the MEC said.
Based on an audit of school infrastructure in Mpumalanga, the department will review the needs and costs and draw up a plan to upgrade schools in the next five years.
Madiba's  birthday
Mhaule said the province was committed to completing the refurbishment of 10 of the province's most run-down schools – one in the Gert Sibande region and nine in the Bohlabela, Ehlanzeni and Nkangala regions – before former President Nelson Mandela's birthday this month.
The project includes new classrooms, nutrition blocks, admin blocks, new fences and more than 200 new toilets to replace the current pit toilets.
Last year, the province built eight new schools and in 2010, it started rebuilding or improving 254 mud and unsafe schools. The project is nearing completion with only 20 schools that are still in progress.
For more information, call the Mpumalanga Department of Education: 0800 203 116