Meet Minister Fikile Mbalula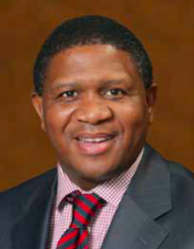 Fikile Mbalula has been Minister of Sports and Recreation since November 2010, Member of the National Executive Committee of the ANC since 2009 and Member of Parliament since May 2009. He has previously served as the Deputy Minister of the South African Police and was once the Leader and Secretary General of the ANC Youth League.
During the late 1980s, Fikile was active in the Congress of South African Students and the South African Youth Congress. In 1990, he became the Secretary of the ANC Provisional Youth Committee and from 1991 to 1994, he served as Regional Secretary of the ANC Youth League (AN- CYL). From 1998 to 2004, Mbalula served as Secretary-General of the ANCYL and in 2004, he was appointed President of the ANCYL; a position he held until 2008.
Minister Mbalula has also been a member of the Local Branch Executive Committee of South African Youth Congress (Sayco) and co-ordinating member of the National Medical and Dental Association.
He was trained in Leadership Skills by the Careers Research and Information Centre and also received training from the Organisation for Appropriate Social Services in South Africa in psychotherapy as a counselor.
Mbalula urges local govt sport planning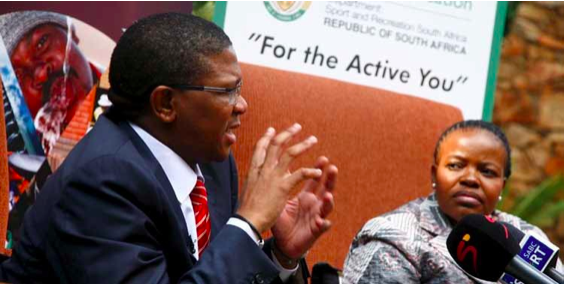 Photo caption: Minister Mbalula and Councillor Flora Maboa-Boltman of SALGA addressing a media conference during the Municipal Sport and Recreation Conference
Sports Minister Fikile Mbalula says the National Sport and Recreation proved by Cabinet, must be aligned to all government planning processes to make it more effective.
The NSRP gives practical guidelines about the nature of sport implementation that will ensure that all South Africans are able to participate in sport an enable the country to become a sport powerhouse worldwide, the Minister said.
"We must all strive to use the sport plan to increase social cohesion and provide much needed opportunities for engagement in com- munity life, foster healthy lifestyles as well as reducing conflict and criminal behavior through education and sport."
Monitoring and evaluation
Speaking at the opening of the two-day Municipal Conference on Sport and Recreation, the Minister said he would meet with the Minister in the Presidency responsible for planning, Trevor Manuel, to concretise the process of aligning the NSRP to all government processes, including at local government level.
He said after meeting Minister Manuel, they would meet with Performance Monitoring and Evaluation Minister Collins Chabane to discuss an overall monitoring and evaluation plan for the country, local government included.
Accessible to all
Minister Mbalula also encouraged all the country's municipalities to take into account the NSRP when mapping their future plans and implement sport and recreation programmes in a way that would help the Sports Department to meet its objectives.
He said sometimes some municipalities' plans were not aligned to their respective provincial plans, adding that this should be fixed as a matter of urgency if we had to meet the objectives of the NSRP.
Mbalula said the conference had to find a workable programme of action for all the municipalities to contribute constructively and meaningfully towards the development of sport and recreation activities for communities throughout South Africa.
He challenged delegates to find ways of implementing sport and recreation programmes and to ensure that facilities are accessible by all communities irrespective of economic status, ability, age and gender.
Identifying talent
Minister Mbalula encouraged local municipalities to play a more active role in the process of identifying talent, and to devise innovative ways of working closely with local sport.
The NSRP sets out to unify the various sport sectors in the country with key role players to help them work towards the same objectives. It also talks to matters concerning sports transformation and how to approach it holistically.
The plan is a major milestone for the country, as it paves the way for South Africa to have - for the first time - a unified sports sector.
For more information call Sport and Recreation South Africa : 012 304 5000
Basketball Without Borders comes to SA
BuaNews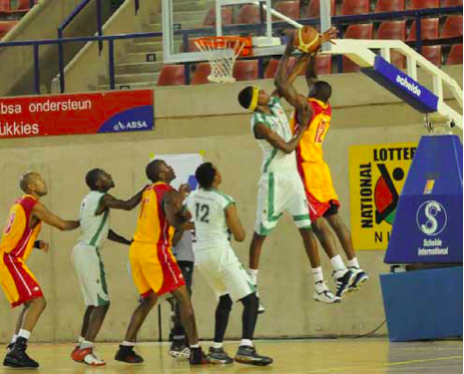 Photo caption: Basketball in South Africa will receive a boost when the Basketball Without Borders tournament is hosted in Johannesburg in August.
South Africa will become the first African country to host the coveted Basketball Without Borders NPA programme. The announcement was made by Sport and Recreation Minister Fikile Mbalula during his Budget Vote in Parliament recently.
Sport and Recreation South Africa will be hosting the 10th Anniversary of the Basketball Without Borders programme in Johannesburg from 30
August to 2 September. This will be the first Basket Ball without Borders NBA tournament to be held on African soil.
Minister Mbalula said the South African Broadcasting Corporation (SABC) and the National Basketball Association (NBA) had agreed on the development and promotion of basketball in South Africa.
All-round strategy
The SABC has committed itself to broadcast all the major games of the NBA during the course of 2012/13 to promote the sport and its development at grassroots level.
"We are delighted that as a result of our engagement, we are now able to view basketball matches on Sunday evenings. We are in partnership with Basketball South Africa and University Sport in South Africa to develop an all-round strategy for the promotion and sustenance of basketball in schools and universities.
Women in sport
Minister Mbalula's Budget Vote also signalled good news for women in sport as he announced that his department would be hosting a National Women and Sport Indaba later this year.
The Indaba will include, but will not be limited to, women athletes, players, administrators, coaches, technical officials and fans, as well as sportswomen in business, sportswomen legends and veterans, sport academia, sports women journalists, and women's organisations, the Minister said.
"I therefore call on the private sector to grab this opportunity to get involved and make a real difference in our society."
Boxing and recreation
Turning to boxing, Minister Mbalula said the turnaround strategy for Boxing South Africa (BSA) was yielding good results.
He singled out the promising sound fi positioning of BSA and the progress made to- wards a structured support in the implementation of the strategy to strengthen South African National Amateur Boxing Organisation.
The Minister also announced the appointment of his Ministerial Advisory Committee on Recreation, which includes well-known sport presenter Robert Marawa.
The role of the committee will be to research the best practice in recreation delivery, norms and standards on the delivery and maintenance of recreational facilities, as well as advising the ministry on the best ways to manage both sport and recreation.
Contact