Premier's line not only a complaint line
Lerato Mailoane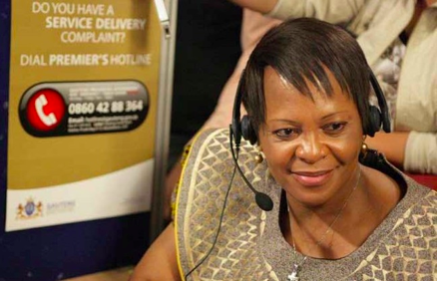 Photo caption: Gauteng Premier Nomvula Mokonyane visited the Gauteng Call Centre where she spent a morning as a call centre agent. She answered calls from the public and interacted with agents on their views and experiences.
While fielding calls at the provincial hotline, Premier Nomvula Mokonyane urged Gauteng residents to use the hotline for any other government-related queries. Mokonyane said there was generally a perception that calls received at the call centre were negative, but after her visit to the call centre in May, she said it was encouraging that Gauteng residents called with general issues.
An informed team
The issues she received while fielding calls ranged from Gauteng Online assistance, a po- lice query and a matric booking cancellation. Mokonyane said the hotline also dealt with service delivery issues ranging from housing, electricity cut-off and installation, the billing system across municipalities, fraud and corruption, among others.
"What is good just from my experience today is that no caller got dismissed. Even if a query is not within the competency of the call centre you still get assisted," she said.
"This is an informed team. The call centre agents are not just conveyer belts," she added. Mokonyane said the hotline which was launched in February had to date handled 22 840 cases - of which 1 286 was written correspondence.
Efficient response
Of all calls logged, 65,56 per cent are resolved at the call centre, while 16,29 per cent had to be escalated to provincial departments and municipalities or agencies for resolutions. About 17 per cent are still not resolved.
The 70 trained agents, whom Mokonyane described as all-rounders, ensure that residents are able to get an efficient response at least within 72 hours from the various departments and municipalities.
Mokonyane said they were engaging the affected municipalities, departments, agencies to fi resolution for the 17 per cent of the unresolved cases.
Opinions and recommendations
"If queries are not resolved timeously a report is sent to my office and I take up the queries with the relevant departments and municipalities," Premier Mokonyane said. She also encouraged residents to send opinions and recommendations, which would be used to improve service delivery.
"I am excited by the feedback I received since the launch. It indicates a reasonable level of satisfaction amongst the callers and enthusiasm as a result of the professionalism demonstrated by our call centre agents when handling their concerns."
For more information, contact the Gauteng Premier's Hotline on: Tel: 0860 42 88 364; fax: 011 429 3222 E-mail: hotline@gauteng.gov.za Postal address : Gauteng Premier's Hotline, Private Bag x115, Marshalltown, 2107. Operating hours: 7:00 to 18:00 weekdays