Khoboso Lebenya - Eastern Cape Provincial Government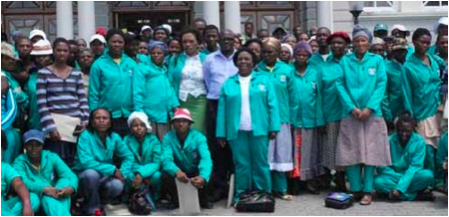 Photo caption: Matatiele residents who have signed up for the EPWP Clean-up Campaign and the Waste Collection Management Programme.
Unemployed residents of Matatiele may soon say goodbye to poverty, as their community is the latest beneficiary of the Expanded Public Works Pro- gramme (EPWP).
The programme was launched in the Matatiele local municipality in the Eastern Cape recently by Public Works Minister Thembelani Thulas Nxesi and Public Works, Roads and Transport MEC Thandiswa Marawu.
The main aim of the EPWP is to provide jobs to unemployed people while they also gain skills thus increasing their chances to earn an income after their contracts had expired. About 182 people in the community have signed employment contracts for the next 12 months.
Waste management
EPWP projects in Matatiele such as the Clean-up Campaign and the Waste Collection Management Programme, not only focus on improving and strengthening the local municipality's commitment to cleanliness and greening initiatives, but also serve to promote community awareness and participation in waste management.
Addressing the community of Kwa-Phalane at the EPWP launch, Minister Nxesi said: "Our target is to create 4,5 million work opportunities by the year 2014. We seek to transfer income directly into poor households; in so doing we bring hope of a better life to families. That additional income, small as it may be, has to go a long way to support family members".
The Minister added that the EPWP aimed to achieve its objectives and targets through the delivery of public and community services.
Greenest town
As the Eastern Cape winner in the Greenest Municipality Competition last year, the Matatiele Local Municipality used the EPWP programme launch to introduce its Keep Matatiele Clean Campaign.
The aim is to motivate community members within the Matatiele district to continue keeping their town clean and green, not only for present generations, but also for the future.
The Greenest Municipality Competition, previously known as the Cleanest Town Competition, was established 10 years ago as a national government intervention to assist in addressing some of the waste management challenges in municipalities.
For more information, call the Eastern Cape Department of Public Works, Roads and Transport: 043 6047 400