The revamped Mthatha Airport, which boasts a new R700 million terminal building and runway, is set to change the face of the region's economy and create a number of jobs.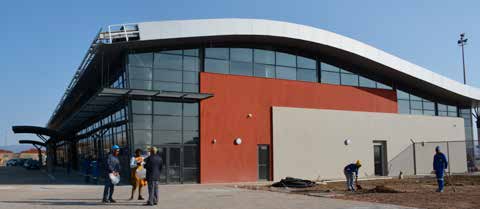 Eastern Cape Premier Phumulo Masualle recently led a media tour of the almost complete airport and has set 30 October as the target date for the official opening of the new-look facility.
The upgraded Mthatha Airport was scheduled to be officially opened in April, but a strike in the metal industry and constant rain led to delays.
The airport is situated in the eastern part of the Eastern Cape, an area rich with heritage and home to the Wild Coast, which is frequented by local and international tourists.
The airport's small runway and terminal building made it unattractive to airlines.
Airlink, the only airline that operates from Mthatha Airport, only offers flights to Johannesburg. But all this is set to change. The provincial government is confident that more airlines will now fly to and from Mthatha Airport, following the massive revamp.
The airport can now receive bigger aircraft and 36 200 passengers have already landed there since April this year. Upgrades to the airport include resting areas for passengers, restaurants and workstations for other airlines. There is also a car hire building, with parking and wash bay facilities.
Safety has been upgraded, mainly to keep stray animals away from the runway, and there are new landing lights that meet international aviation standards.
Mthatha Airport is part of government's infrastructure build programme and the upgrade was done under the Presidential intervention package in the previous administration. The next step is the development of an office park and a retail and hospitality complex in the airport's non-aviation zone precinct, which will include a hotel and major conference centre.
During construction at least 223 jobs were created and up to 120 of those employed were youth. Eastern Cape MEC for Transport Weziwe Tikana said a bigger and better Mthatha Airport was important for the province's economic growth and tourism and will support rural development.
"The unprecedented investment in this airport is indeed making a necessary mark towards correcting the unnecessary imbalance of neglecting areas in former homelands," she said.
Government's long-term plan was to reposition the Mthatha Airport as the "gateway" to the eastern part of the Eastern Cape. This will be achieved by transforming the airport into a passenger and freight hub, linking road, rail and air transport.