When Tsatsanape Mdluli dropped out of college because of a lack of finances, he also gave up on his dream of becoming a logistics manager.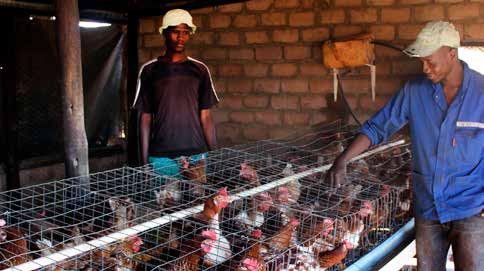 For over a year the 24-year-old was idle in Soweto and spent time with the wrong people, who almost lured him into criminal activities.
"It was very tough at the time. I would wake up and just go up and down the streets. I felt useless. I was getting frustrated because I was just sitting around doing nothing."
Mdluli dropped out of City Town College in Soweto in 2010 because he did not have money to study for the second year of his Diploma in Transport and Logistics Management.
In 2010 and for most of 2011, he sat at home. Then he decided to change his life and go back to his home village of Ngwaritsi in Limpopo to work on a farm owned by his family.
Mdluli said the decision to get into farming was not a difficult one because he grew up on a farm and he was familiar with farm life.
"Farming is something that we've done as a family for a long time and I was born on this farm," he said pointing to a farmhouse adjacent to a plantation of peaches.
In 2012, he decided to get into mixed farming, which is the practice of planting vegetables and farming livestock at the same time. He farms chickens, cabbages and peaches on the 10 hectare farm.
Mdluli was helped by the Limpopo Department of Agriculture through a programme called Fetsa Tlala that aims to eradicate poverty in poor rural communities.
The programme helped him to buy 200 broilers and chicken feed. Broilers are chickens that are bred and raised specifically for meat production.
His chickens produce in the region of 190 to 200 eggs per day. He packages at least 21 boxes of eggs per week. The packaged eggs are then sold to the community, neighbouring villages and local businesses.
Mdluli's advice to young and upcoming farmers is to be patient. 
"The farming business is not as simple as it looks and you must have patience because you can't start now and make money tomorrow, it's a long process that requires patience and a love for farming."
He said he has big dreams and plans for his farming business.
"In the next two years we will be the biggest supplier of eggs in Ngwaritsi and the whole of Makhuduthamaga Local Municipality," said Mdluli.