Written by Chris Bathembu
Growing up in the hilly village of Mvezo – about 40km south of Mthatha in the Eastern Cape, Mathabo Mbewu, 29, was forced to drop out of school only after a few months at primary because of the long distance she had to travel. The only school close to her was 20km away.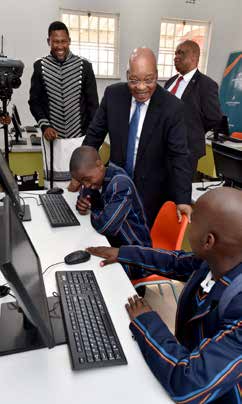 She was only nine years old when she left school and that meant the end of education for her. She is not the only one. Many of the children in rural areas like Mvezo are either forced to drop out of school or have to travel long distances to access better school. But thanks to a new state-of-the-art modern school that has been built in Mvezo, Mbewu's eight-year-old daughter will not have to go through the same difficulty as her mom.
The new Makgatho Lewanika Mandela Primary School will give her all she needs in a school. The school was opened by President Jacob Zuma recently and has all the technology and facilities required of a modern school.
"I am very happy that my child will be able to go to a good school and become a better person that I could not become. I know the education she will receive from that school will help her to be what she wants to be later in life and in turn she can help the community as a whole," said Mbewu, who married the father of her three children at the age of 19.
"I know that things were difficult for me and I had to make the choices I made, but it should not be the same for my children. They should have a better chance than I had," she said.
There was excitement in the tiny village as President Zuma handed over the R30 million school to the community during a ceremony attended by Basic Education Minister Angie Motshekga, Miss World Rolene Strauss, diplomats and representatives from the Eastern Cape provincial government, led by Premier Phumulo Masualle.
400 learners attend new school
More than 400 pupils will now have access to a new computer centre fitted with 42 computers, a library, a laboratory, administration block and a kitchen. The school was formed by the merging of the Nkwenkwezi Primary and Mvezo Junior Primary Schools.
Government, through the Accelerated School Infrastructure Development Initiative (Asidi), has delivered over 370 new schools replacing mud schools and other unsuitable structures around the country. Most of these schools were built in the Eastern Cape.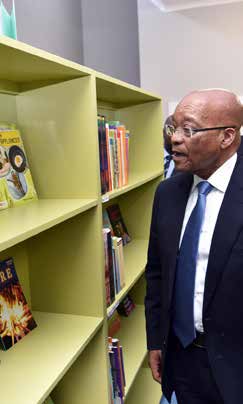 President Zuma said with the new school in Mvezo, children in the village will never suffer again.
"We expect the next generation of Mvezo children to take up their rightful place in commerce, academia, leadership and the advancement of human rights and dignity.
"We are indeed honoured to walk in the shadow of a giant that was Madiba. We owe to him and his generation an immense debt of gratitude for sacrificing life and limb in pursuance of our liberty," he said.
The President added that education remained a priority of government. 
"We are happy therefore that there is a huge increase in the enrolment of children in school, from pre-primary to tertiary level. The number of children attending Grade R has more than doubled, moving from about 300 000 to more than 700 000 between 2003 and 2011."
Eight million learners attend no-fee schools
Eight million learners were attending no-fee schools, whereas nine million learners are getting nutritious meals at school, which are provided by government to ensure that they do not suffer from starvation and that enables them to perform well.
"The matric pass rate has gone up from around 61 per cent in 2009 to 78 per cent last year and the bachelor passes improve each year," President Zuma said.
Local chief Inkosi Zwelivelile Mandela said the Makgatho Lewanika Mandela Primary School was a tribute to the late Mandela, whose wish was for a modern school to be built in Mvezo. The former President was born in Mvezo and spent part of his childhood in the small village. 
"My grandfather said let us use education to change the world and this is what we are doing here today. Education is still the only weapon we can use to change the world for the better," said Chief Mandela.