Six women in the Chris Hani District Municipality have created work for unemployed local community members through the construction of 15 kilometres of pedestrian walkways in the remote semi-rural town of Whittlesea.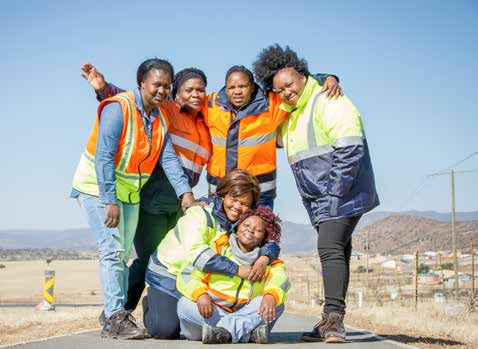 The South African National Roads Agency Ltd (SANRAL) started construction in March this year and completed in September. The project formed part of SANRAL's community development initiative.
"It is interesting to see how this project is influencing change and development in the lives of individual SMMEs and their employees. Eighty-five general workers are employed by these SMMEs. The majority of them hadn't been involved in civil engineering construction before," said Lindelani Tsanwani, SANRAL Southern Region project manager.
The process involved adverts and clarification meetings between July and August 2014, after which prequalification assessments were conducted and 30 NQF Level 2 and 16 NQF Level 4 learners were selected to start training in September to November 2014.
"The training has included business skills, communication and financial skills. They are able to purchase their own material and have forged good relationships with local suppliers of aggregates, bitumen and plant equipment, which will assist them in future contracts," Tsanwani said.
 Ncumisa Simayile, owner of Ncurals Trading, is not only making a difference in her own life but also in the lives of fellow community members.
"When my employees tell me how happy they are to work and afford to put food on the table it makes me cry," said an emotional Simayile.
Before working on the SANRAL project, Simayile, a single mother of two children, survived by occasionally selling vegetables and goats as well as relying on her children's child grant money.
Feni Masala, a mother of two girls aged 13 and 9, used to own a catering business before she started her business.
"It was difficult to pay school fees, debt was piling up and we struggled to provide for our children.
"When I started working on the SANRAL project, not only could I settle our debt and provide better for our children, but also help others who were in the same situation as me," she said.