The South African National Roads Agency's (SANRAL) 32 roadwork construction projects in the Eastern Cape will change the quality of roads in the province.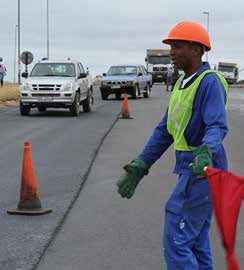 Major roadworks construction projects valued at R2.2 billion in the Eastern Cape are expected to improve the attractiveness of region for foreign and direct investment, creating safer and sufficient walkway and road-crossing infrastructure for pedestrians, and improving road surface.
Vuk'uzenzele looks at some of the statistics and how it will benefit the region
New data released by SANRAL Southern Region shows that 1 070 km or 23 per cent of the national road network of 4 544 km in Eastern Cape - the province with the most national roads - is being upgraded, preserved or rehabilitated and that the entire 4 544 km was being maintained throughout the year.
In the Eastern Cape, SANRAL is busy on the N2, N6, R61, R63, R65 and R67 with a number of projects.
R750 million is being spent on periodic maintenance covering 600 kilometres of the national road network.
R372 million is for special maintenance over a distance of 208 kilometres.
R460 million has been set aside for rehabilitation of the national road network covering 122 kilometres.
R648 million is for special upgrading projects on 140 kilometres of the national road in the province.
According to statistics released by SANRAL Southern Region, the value of conventional engineering and routine road maintenance contracts awarded to 625 SMMEs between April 2014 and March 2015 was R805 million.
Majority of these of beneficiaries (69.76 per cent) were black-owned companies.
The latest SANRAL project in the Eastern Cape is the special maintenance of a 28-kilometre stretch of the N2 road between Bramlin Interchange and the Coega IDZ in Port Elizabeth.
The project entails resurfacing, drainage improvements and localised repairs of existing pavement failures over 18-month period.
These projects will also improve safety of pedestrians through several special walkways, pedestrian bridges, and to protect the assets of rural livestock farmers and to reduce motor vehicle accidents several agricultural underpass culverts are being constructed.
This year SANRAL is also expected to spend R179 million on community development projects in the Eastern Cape.