Written by Bathandwa Mbola
Ivory Park, situated on the east, midway between Johannesburg and Pretoria once epitomised hopelessness and despair. But the township is steadily turning its fortunes around thanks to various initiatives from both government and non-governmental organisations.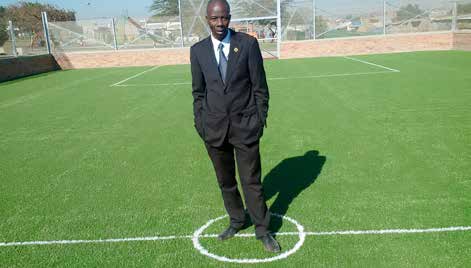 Petrus Zitha, a resident of the township, seems destined to make a difference to the community of Ivory Park still grappling with challenges of poverty, lack of certain services and housing shortage.
For many years, Zitha has experienced first-hand the vibrancy, challenges and complexity of social and entrepreneurial life in the streets of this township in his capacity as a city councillor in the area, which falls under the City of Johannesburg's Ward 79 in Region A.
Today, his dream of bringing change to the community seems more possible and under his leadership the community has seen  major progress in the delivery of housing, formal stands with titled deeds, tarred roads and provision of electricity, proper sanitation and infrastructure, schools, a police station, libraries and a community centre.
Vuk'uzenzele recently spoke to him about what it means to serve this community as a councillor and what keeps him going despite the odds.
"To become a counsellor in an area that is underdeveloped in informal settlements like Ivory Park is not easy. It has been a long and learning curve for me but coming from a poor background myself, I understand the challenges being faced by the people better," said the soft-spoken, Zitha from Tembisa, in Ekurhuleni. He moved to Ivory Park during the 1990s in search of better opportunities.
Ward councillors play a central role in the communication process between the communities they represent and the city council. Among other roles, they report back regularly through ward meetings and assist the community in identifying needs and priority areas of development, which feeds into the municipality's planning processes.
Among the challenges that many councillors face include addressing the apartheid-legacy underdevelopment of the regions and municipalities they serve, foster participatory governance at the local level, and consolidate local government to facilitate sustainable development and improving service delivery.
"Seeing the township developing and me being part and parcel of the process of this development really motivates me," says Zitha.
The 51-year-old father of four Zitha stands out from the crowd and has taken full responsibility for his job and does it diligently.
Hands on approach
He is a man who practices simplicity and has a hands on approach. He never minces his words nor is he too busy to listen to the calls of his community.
"If I still see our people in shacks, unemployed that motivates me to say this is not what we fought for. We fought for all of us to enjoy the fruits of the Freedom Charter which says the wealth beneath our soil should be enjoyed by everyone, people should have housing and better education," he says.
He refuses to label his efforts as a job but opting for rather a "calling."
"It needs one to have a heart and patience to work with people. You become a doctor, a nurse, a social worker, you become a brother and a mother – you become all these things and on top of it you do not have a clock in or knock off time - it's a 24-hour job with no leave."
Never too busy for the community
Zitha says he is never too busy to talk to his community as though they were relatives and with a supportive wife - who allows people into their house no matter the time of the day - his job is easy.
"The entire community becomes your family. I have seen in other wards that councillors had to be protected by bodyguards and their houses monitored - I rejected that my bodyguard is the community of Ivory Park and have assured me that nothing will happen to me."
He confidently declares that people in this ward are happy with the delivery of services, although sometimes delivery turns out to be slow.
As a sign of approval, he has won several awards from various organisations, from the business sector, the churches, schools and youth organisations.
"I do my work unaware that I would get a compliment from the local community it is very humbling and shows that everyone is watching my work."
However, Zitha is not naive and acknowledges that not everyone is happy by his efforts in the community.
"Others offer criticism which I like because they make me do my work diligently and keep me on my toes. I do not allow myself to be praised all the time as they make one to relax," he said.
Zitha said the issues that keep him awake at night are the mushrooming informal settlements, unemployment which he says stands at about 67 per cent, lack of youth recreational facilities and lack of public transport like buses as well as high crime levels.
But despite all these challenges - he said the spirit in the community is never down as most of them supplement their livelihoods through informal trading.
By being a counsellor and putting his community first - Zitha is an example of ordinary people around the world who have taken up the responsibility for making the world a better place, one small step at a time.
TYPES OF COUNCILLORS
A ward councillor is responsible for the interests of people in a specific ward are represented in council. He/she reports on council activities on a regular basis to the ward and reports on annual performance of the ward and strengthen the relationship with community.
A proportional representative councillor is a member of a political party and is elected through the party lists. He/she is accountable to the party.
An independent councillor does not belong to a political party and is accountable to the people who have elected him/her to represent their interests.
WHO IS MY COUNCILLOR?
It's important for you to know your councillor for you to know who to go to with your issues. 
Get the contact details of your Ward Councillor by sending your ID number to 32245 (R1 per SMS sent or received)