Brick-making cooperative Wyse West, located close to Mohlakeng township, could be one of hundreds of township enterprises to benefit from the Gauteng government's initiative to revamp old industrial parks.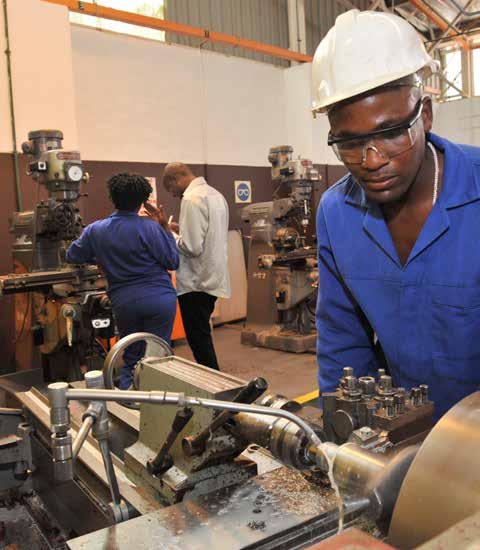 Run by Nicodemus Letlhake and seven other members, the business is excited about the province's pledge to source 30 per cent of its procurement from township businesses, as part its township revitalisation strategy.
"I think it (the strategy) is something that can benefit us a lot," said Letlhake at the strategy launch at Orlando Stadium recently.
The municipality helped set up the cooperative in 2013 and last year the members also received help from the Gauteng Enterprise Propeller (GEP).
This included R18 000 worth of marketing assistance, including pamphlets, signage and a website, and access to two exhibitions, where the members were able to make sales to private homeowners. Letlhake said the cooperative has employed four people since it started, but admits that it has yet to become sustainable and depends on a R430 000 grant from the Mining Forum, sourced from mines looking to meet obligations of the Mining BEE code.
The cooperative is hoping to get work from low-cost housing projects from the local and provincial government.
The bricks manufactured by the cooperative don't need cement to hold them together. Instead, a kind of epoxy glue and their interlocking design secure them in place.
The bricks, which the cooperative tested last in May at a private laboratory, are over double the benchmark strength set by the SABS.
  GEP head of partnerships and stakeholder relations Mpumi Ndebele said in the 2014/15 financial year the agency trained 534 informal businesses and helped 25 businesses to register their enterprises. This is up from 401 in 2013/14, which saw 79 registrations.
The agency funded business training and some of beneficiaries were also able to access grants of up to R9 000 from the community fund.
Ndebele pointed to one spaza shop owner, who with training sponsored by pharmaceutical giant GSK, was able to diversify his product range and hire two more people. The owner was also able to get a R200 000 grant from the GEP to buy a container and fridges and acquire more stock.