Written by Glory Msungwa*
Single parenting can be a tough and challenging experience and the Department of Justice and Constitutional Development, through its Operation Isondlo, continues to ensure that those responsible for paying maintenance are obliged to do so for their children's well-being.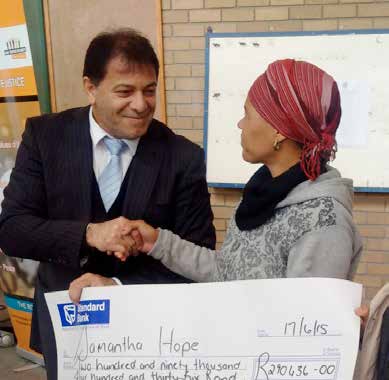 Western Cape mother, Samantha Hope (34) recently received a lump-sum settlement for maintenance. Hope, who is currently unemployed, raises her nine year-old son and her 11-year-old daughter, who suffers from Sturge-Weber Syndrome, a rare congenital neurological and skin disorder which affects the brain.
Hope received a R290 000 lump sum. From that, a stipend will be paid out to her, and her children monthly.
"I got married in 1996 and had two children. After realising that my marriage was not working out, my ex-husband and I divorced in 2009. After the divorce, and being unemployed, my huge concern was the future of my children, in particular my daughter, who has special needs," she said. The divorce agreement legally stated that the children's father would be responsible for maintenance.
"My ex-husband's responsibility was to pay maintenance for my children. This meant that I would be responsible to ensure that my children's needs such as education, aftercare, food and extra mural costs are met," she explained.
After an agreement was signed, her ex-husband agreed to a maintenance payout of R1 700 a month for both children. The payments were met in the beginning, but earlier this year, he defaulted on paying maintenance without notice and she later learnt that her ex-husband had retired and was no longer working.
 Hope began doing odd jobs to make ends meet, but this would not cover the costs of her daughter's needs for basic essentials like nappies because of her condition After realising that the burden was too much to handle alone, she decided to approach the Wynburg Magistrate's Courts' maintenance section for assistance. "The officials at the court were very helpful, I completed the necessary forms for the court to proceed with the execution and the process was very quick," she said with a smile.
In April 2015, the court found that Hope's ex-husband had retired and an order to attach a lump sum of R290 000 from her ex-husband's pension fund was issued. Her ex-husband subsequently complied with an order and the money was deducted from his account and transferred to the Guardian's Fund in the Department of Justice and Constitutional Development.
Today, Hope and her children receive a monthly payout of R1 700 a month, which she describes as a blessing for the future of her children.
 "I encourage all the single mothers out there battling to support themselves and their children to stand up and ask for help at any magistrate's court.
The maintenance system is a lot easier as long as you have all the necessary documents at hand."
* Glory Msungwa works for the Department of Justice and Constitutional Development.