If your matric results do not meet the requirements for university entry, do not despair. You can still pursue other avenues to better your life such as learnerships, apprenticeships and Further Education and Training (FET) colleges.
Learnerships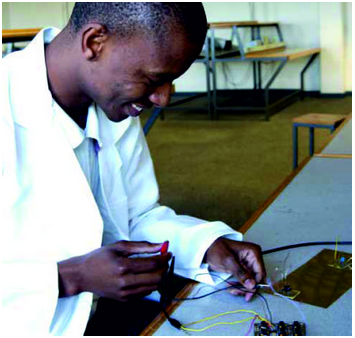 A learnership is a training programme available for people who are unemployed, school leavers, matriculants and college graduates, among others.
It is a work-based learning programme leading to a nationally recognised qualification. The qualification is related to an occupation, e.g. construction work, healthcare work, IT technician or electrician.
Some learnerships do not require you to meet any entry requirements but others only admit candidates with a Grade 12 certificate.
A learnership combines a structured learning component with practical work experience you will acquire from the company, government department or small business you work for.
You don't have to pay to be a part of learnerships as they are funded by the Sector Education and Training Authority (SETA).
Learnerships pay an allowance intended to cover the cost of expenses such as travel and meals.
During the learnership, you will have to complete assignments, projects, practical tasks, demonstrations and write tests. You will be formally assessed in the classroom and workplace, meaning you will be tested in some way.
If you successfully complete all these assignments, you will be awarded a qualification that is recognised throughout the country. You will be given an official certificate that will state the qualification, which will indicate the area in which you have developed skills during the learnership.
Learnerships are registered with the Department of Higher Education and Training. You can also contact your nearest Labour Centre or provincial Department of Labour office to register on the Unemployed Persons' Service. You could also check the SETA websites for more information on what learnerships are available.
Apprenticeship
An apprenticeship is another avenue to pursue that is similar to a learnership but pays more attention to technical trades such as welding, plumbing, fitting, plastering and mechanics. An apprenticeship is an agreement between an apprentice (learner) and an employer for a certain period of time during which the apprentice works and receives training in the workplace.
Unlike learnerships, apprenticeships are not aligned to the National Qualifications Framework. The training is formal and structured and takes place at a workplace. An apprentice is expected to undergo a trade test before becoming a qualified artisan.
Those entering apprenticeships should at least be 15 years of age. Each sector, such as the transport or manufacturing and engineering sector, has different approved conditions of apprenticeship regarding entry requirements and so on. More information on apprenticeship requirements can be obtained from the relevant SETAs. Enquire at your nearest Labour Centre about these.
FET colleges
FET colleges are the perfect place to look to if you are into technical trades. Last year, government increased funding to FET colleges as a demonstration that more needs to be done to address the scare skills and increase the number of artisans in the country.
Minister of Higher Education and Training Blade Nzimande says government would like to see FET colleges as institutions of choice in rolling out skills development on a larger scale. Currently, there are 50 FET colleges across the country.
For more information contact the Department of Higher Education and Training call centre on 0800 872 222 or 012 312 5911.