Written by *Luvuyo Mjekula
"I was aggressive and angry most of the time. Music changed my life for the better."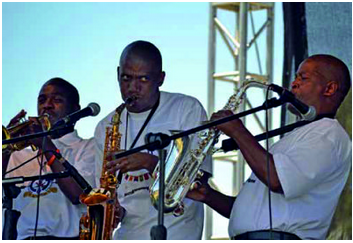 Those were the words of Thulani Mpongoshe, a 31-year-old offender, shortly before he led his gospel group's performance at the Department of Correctional Services' National Offender Jazz Festival in Bloemfontein recently.
The event, under the theme Correction, Rehabilitation and Reintegration through Music, saw about 200 offenders showcasing their dance and musical talents in front of a 1 500-strong audience.
And the gifted offenders had the crowd captivated throughout the festival, with community members and officials from the department singing along and hitting the dance floor. Correctional Services Minister Sibusiso Ndebele was one of the many guests enjoying the music.
"Today, as part of rehabilitation through the arts, we will witness rehabilitation in action by inmates from correctional centres across the country. It is indeed a great day when a section of our offender population, those talented in music and willing to showcase their talents as part of the rehabilitation process, come forward to say, 'We are indeed changing; we are becoming better citizens'," Minister Ndebele said.
The Minister's words were echoed by Mpongoshe, who said music had transformed his life. "I once believed I was born to be cruel," he recalled.
Mpongoshe said his negative thinking changed after the department provided musical instruments to offenders and he was introduced to gospel music.
The talented keyboard player and lead vocalist believes that music helped him get a transfer from a maximum to medium correctional centre in 2010.
Offenders are rewarded for their good behaviour, eagerness to learn new skills and willingness change their ways.
While at the maximum centre in East London, Mpongoshe was the leader of the group From Crime to Christ.
When he was transferred to the Mdantsane Medium Correctional Centre he resuscitated Masibon'ukukhanya, also a gospel group. Mpongoshe has never looked back.
"Music gave me hope in myself. I suddenly found myself not wanting to do bad things," he said.
Even the death of his mother, who was killed in a car accident on her way to visit him in 2008, did not deter Mpongoshe.
In fact, after the accident he wrote a song titled A Song for Mama, as a tribute to her.
Motivated by the women in the audience, his group performed this moving song at the festival.
Still excited after his group's performance, offender Siya Mashego Maphiri, 31, said music helped him interact with people, something he found hard to do in the past.
A bass guitarist for the Tswelopele Correctional Centre-based group Sharing Through Music (STM), Maphiri believes music has rehabilitated him.
"Music makes the heart well. It helps me get along with people," he said.
Maphiri also considers education as the key to rehabilitation.
As a result, he is now a first year graphic design student and wants to excel so he can get a good job when he completes his sentence.
Another offender Enslin Scholtz said: "Music has changed me. I will take music with me when I leave the correctional centre."
The offenders expressed their desire to further develop their musical talent when they were released from correctional centres.
Correctional Services has partnered with the Department of Arts and Culture to use the arts as a vehicle to change offenders' ways.
*Luvuyo Mjekula works for the Department of Correctional Services.
For more information contact Correctional Services on 012 307 2281.