Infrastructure development
Thousands of Eastern Cape pupils, who were once taught in mud huts and other unsafe structures, started school with raised spirits this year as they entered brand-new classrooms.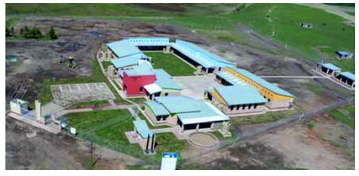 At least 2 000 pupils have benefitted from the 10 new schools completed in October and November 2012 – including four schools opened by President Jacob Zuma in October.
Each school has electricity and is fitted with a science laboratory, an information technology centre and a library.
They form part of 49 schools to be built through the Accelerated School Infrastructure Development Initiative (ASIDI) in the Eastern Cape by the end of March 2013.
"We are so happy," said Maureen Mjali, the former principal of Dumile Senior Primary School, one of the recently completed schools, which is situated 35km from Mthatha.
Mjali said the old school had mud walls, making classrooms dusty and space scarce.
She added that pupils were now more motivated, pointing out that there had been 300 applications for the 135 spots for pupils at the school.
The school's principal Mkuseli Mangqishi said the new science and computer laboratories would make a huge difference to the lives of pupils.
Nomveliso Majeke, the principal of Kwezilethu Junior Primary School, also near Mthatha, said her school's new classrooms would have a positive impact on school attendance.
Previously pupils often stayed away when the weather was bad and the mud-walled classrooms were flooded.
ASIDI project manager Tsholofelo Diale, from the Department of Basic Education, said once the 49 schools were completed, 12 337 pupils would have new schools. The programme aims to replace inappropriate school structures, address basic services backlogs and the provision of these services. It forms part of the government's 13th Strategic Infrastructure Project (SIP), which involves the rebuilding of schools.
The R8.2 billion public-private programme aims to eradicate the 496 mud schools in the country, provide water and sanitation to 1 257 schools and electricity to 878 schools by March 2016.
The next batch of schools to be built as part of the programme, include 97 schools to be completed by the end of March 2014 – most of them primary schools.
In all, 50 will be built in the Eastern Cape, 20 in Free State, 14 in the Western Cape, five in Mpumalanga, three each in KwaZulu-Natal and Limpopo and one each in the Northern Cape and North West.
Contractors were being appointed in the Eastern Cape and Western Cape, while an implementing agent has been secured in Free State to source engineers and designers before contracts are put out.
Diale said each new school would have electricity for the first time. The schools will also include seven classrooms as well as a Grade R classroom, a multi-media centre with a library and internet access, a science laboratory, a multi-purpose classroom where arts or extra-mural activities can be carried out, an administration block, Enviro Loos and tanks for rainwater harvesting.
Schools must have at least 135 pupils in order to receive the full quota of classrooms and services. Diale said that infrastructure would still be built for schools with fewer than 135 pupils, but these schools would not receive the full list of services that a school of 135 pupils is entitled to.
In addition to the new schools built, the ASIDI programme has also helped bring electricity to a further 98 schools, sanitation to 144 schools and put in place water connections for 102 schools.
The 10 schools opened by the middle of December 2012 are: Mphathiswa Senior Primary, Tabata Senior Primary, Dakhile Junior Primary, Vulindlela Junior Primary, Kwenxura Senior Primary, Kwezilethu Senior Primary, Nobantu Senior Primary, Mdavuza Senior Primary, Dumile Senior Primary and Ndlovayipathwa Senior Primary.