Written by Samona Murugan
Emerging scientist Charlotte Maserumule has received a stamp of approval for her dedication to her field. The student researcher, with the Council for Scientific and Industrial Research (CSIR), was one of the winners at the South African Women in Science Awards recently.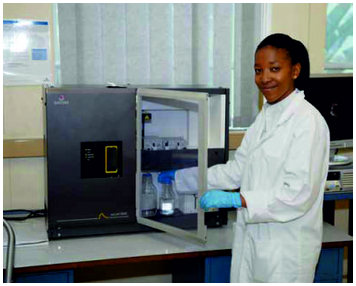 She received the Master's Fellowship Award and said it was one she would cherish for the rest of her life.
"I'm sure that I'm in very good company and I'm honoured to be counted among this group of remarkable, young women scientists-in-training."
Maserumule is pursuing a Master of Science degree in Medicine with the University of Cape Town.
She is currently conducting her research at the CSIR's Emerging Health Technologies Platform under the guidance of Dr Makobetsa Khati.
Her Master's degree focuses on using technology to develop a simple, rapid and affordable diagnostic kit for Tuberculosis (TB) that can be used at clinics and hospitals.
Maserumule also holds a Bachelor of Science (BSc) degree in Medical Sciences from the University of Pretoria and BSc Honours in Medical Cell Biology from the University of the Witwatersrand.
"As a young emerging scientist, winning the award is something of a stamp of approval that you are doing something right and particularly relevant in the South African context," she says.
Her current research interests are in molecular biology, which deals with cells and a person's DNA; nanotechnology, which involves creating new materials such as medicine, electronics, biomaterials and energy production; and biophotonics, which uses light and lasers, to study things like the human tissue.
"My work in the TB project affords me the opportunity to do science that has potentially tangible medical applications and that makes a big difference in people's lives," Maserumule adds.
She has plans to further her career in applied science and hopes to become a role model for young women, particularly those growing up in the rural areas, by inspiring them to flourish beyond the limitations of their beginnings.
Maserumule is not new to awards, having also received an award from the KwaZulu- Natal Research Institute for Tuberculosis and HIV Collaborative Grants Programme for her excellent work in developing TB detection probes for potential use in point of care diagnostics.
The South African Women in Science Awards are hosted annually by the Department of Science and Technology to recognise and reward the achievements of leading South African women scientists and researchers.
With these awards, the department aims to profile women scientists and researchers as role models for younger scientists and researchers; as well as encourage and reward younger women who are starting their careers as emerging researchers and scientists