In 2011 Mandisa Nkamba Kadalie swapped her designer suits and stilettos for an apron and has not looked back since. The former Absa black business development consultant says it has always been her dream to own a place where she could cook, host and serve food to her clients.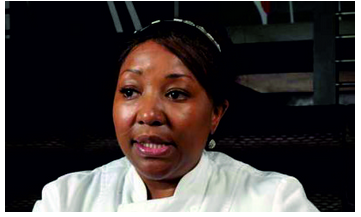 Today she owns a flourishing chain restaurant, Karoo Cattle & Land, at Rosebank Mall. Since opening its doors in December 2011, the restaurant has created 33 jobs for 18 kitchen staff and 15 waiters and waitresses.
Situated at The Zone at Rosebank Mall, the 579 square metre restaurant caters for an upmarket clientele. Artwork reflecting Karoo cattle cover the walls. Six small round tables with stools are outside, while inside dinner tables are neatly set with a mixture of white and brown overlays. There is also a VIP section and dance floor at the restaurant.
Kadalie has had to work hard to get the restaurant to where it is now.
"I had this dream from an early age. I remember writing proposals, letters and dreaming up names for my restaurant. I wanted to call it Silver Spoon but there was never that perfect time for me to get into that. I pictured a nice restaurant by the seaside and I knew that with more practise and ambition, I could do it," she explains.
It was only after meeting Theodore Holiasmenos, entrepreneur and franchisor of Karoo Cattle & Land, that her plans began to take shape. He encouraged her to open the restaurant and gave her ideas on how to get started. After this meeting, she was filled with hope and vigour to make her dream a reality.
But to advance her plans, she needed strong financial backing. Holiasmenos pointed her in the direction of the National Empowerment Fund (NEF), an agency of the Department of Trade and Industry that provides financial support to small black businesses, and that was the start of a good relationship.
Kadalie approached the NEF with her dream and was asked to draft a proper business plan. After further consultation and drawing from her experience gained from consulting for small black businesses, she drafted a "killer business plan" that eventually secured her a R5.3 million loan from the NEF in June 2011. She and her franchisor identified a spot at Rosebank Mall and then further negotiated with the NEF. "We had to look at a range of aspects and one that bothered me was the cost of the rental because the location was in a mall."
The NEF interrogated all aspects of her business plan, from location, viability, accessibility, menu, staff turnover and her readiness to run an upmarket restaurant.
Kadalie says her readiness and passion for owning a restaurant were the driving forces that secured her funding from the NEF.
Looking back after a year, she says she does not miss the expensive designer clothes or stilettos and she feels more comfortable wearing her apron and serving her patrons
For more information contact the National Empowerment Fund on 0861 843 633.