Written by Samona Murugan
Youth matters
Empowering other young women is the joint goal of Vonani Mathebula and Thandeka Myeza - both successful beneficiaries of the National Youth Development Agency (NYDA). Through their own start-up businesses, these youngsters have managed to encourage and inspire others in their communities. Vuk'uzenzele caught up with the two to find out what makes them great role models in their communities.
Vonani Mathebula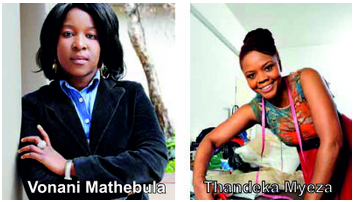 In 2011 24-year-old Vonani Mathebula established Brains Empowerment, a company that aims to bridge the gap between developed and underdeveloped communities through information, guidance in the form of mentorship and the print media. According to Mathebula, the high rate of teen pregnancies, drug abuse and unemployment in her community in Orange Farm, Gauteng motivated her to establish the company. "I want to empower South Africans by ensuring that we become a source of information," she explains.
Mathebula is particularly passionate about empowering women through her magazine called Successful Women Magazine. The bi-monthly, informative and inspirational magazine equips women with information about education, the corporate environment, entrepreneurship, sports and more. She has featured many inspirational people in her magazine such as Dr Richard Maponya and media personality Rhulani Baloyi, who has proved that a disability should not be an inability.
The aim of the publication is to inspire women to take charge of their lives and strive for success. Mathebula acquired a business loan from the NYDA, which she invested in the magazine. In addition, she received the NYDA's Marketing and Promotional Material Voucher and a Website Development Voucher. "I am extremely grateful to the NYDA," she says.
Mathebula's father passed away when she was just 14 years old and she was raised by her mother. "My mother works as a cleaner but she has always tried to give my two siblings and I a better life. Growing up in Orange Farm was not easy but I made a choice to strive for more," she adds.
After matriculating Mathebula studied marketing at the University of South Africa. Her future plans include growing her magazine to new heights by having it published monthly and nationally. Mathebula also hopes to start a magazine for men, as well as an inspirational magazine for persons with disabilities.
There is clearly no stopping this ambitious and hardworking young woman in her quest to empower and motivate South Africans.
Thandeka Myeza
Entrepreneur Thandeka Myeza is making waves in Durban, KwaZulu-Natal through her fashion label Malesna Design. Myeza discovered her love for fashion design while in high school. "I grew up in an environment where everyone wanted to be a doctor or lawyer but I became exposed to other careers and discovered that I am good with my hands," she says.
After matric, Myeza studied towards a Diploma in Fashion Design and started working from her home in Pinetown. "Those were some of the most difficult years of my life. I did not have many clients and would go for months without an income," she recalls.
Despite these challenging times she was never tempted to look for a full-time job because she believed there were better days ahead.
A change of luck came in 2007 when she moved to Durban. "People wanted to know where I got my clothes from and word of mouth worked wonders," she says.
As one of the three top designers at the 2009 Eastern Cape Fashion Week, Myeza got an opportunity to supply a fashion store in East London. "I needed additional machinery and fabric so I approached the banks for a loan but was rejected. I then approached the NYDA and they assisted me with a R50 000 business loan," she explains.
Today, Myeza supplies another fashion store in Durban and is the chairperson of KwaZulu-Natal Youth Designers, a group of 10 fashion designers who have fashion stores in Durban and plan to open more stores in KwaZulu-Natal and the rest of the country.
In 2010 she won the Citibank Overall Entrepreneur Award after being nominated by the NYDA.
Myeza continues to dress ordinary women and high profile personalities for occasions such as the Durban July and weddings. "I want to grow the Malesna brand so that I can establish stand-alone fashion stores throughout the country and inspire other women to follow their dreams," she says.