Written by * Nelson Kgwete
International relations
South Africa's hosting of the Brazil, Russia, India, China and South Africa (BRICS) Summit in March marks the country's increased role in the distribution of power internationally.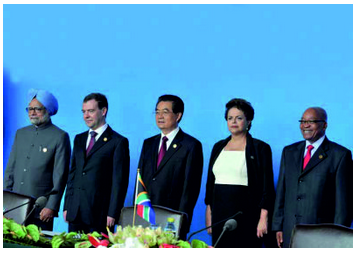 BRICS has enabled individual countries, which were insignificant in the past, to form an alliance that has given them more power.
The BRICS bloc represents 43 per cent of the world's population, approximately one fifth of global gross domestic product (GDP) estimated at $13.7 trillion (approximately R119 trillion), as well as combined foreign reserves estimated at $4.4 trillion (approximately R38 trillion).
In recent years, South Africa has substantially increased trade with its BRICS partners. According to the latest trade figures released by the Department of Trade and Industry, bilateral trade between South Africa and the BRICS countries increased substantially in 2011, powered by significant increases in exports.
Bilateral trade between South Africa and China last year grew by 32 per cent, trade with India by 25 per cent and trade with Brazil by 20 per cent. In 2011, South African exports to China grew the most - at 46 per cent - while exports to India grew by 20 per cent, to Brazil by 14 per cent, and to Russia by seven per cent. The BRICS bloc represents the world's leading emerging market economies.
South Africa's foreign policy emphasises that its national interests are better safeguarded by not just focusing on its own national interests, but broadly on the interests of the region and continent.
South Africa's interaction with BRICS is based on three levels of engagement - national, where national interests are advanced; regional, where regional integration is promoted and on a global level, where the country advocates for a more inclusive global governance system.
South Africa has used its membership of BRICS to create economic opportunities for its development as well as that of the continent.
The country has placed specific emphasis on the African Union mandate given to President Jacob Zuma to promote infrastructure development across the continent. The summit in March will constitute another high-level opportunity to further support key priority areas of the African agenda.
Africa is emerging as one of the fastest growing markets in the world. The growth potential of BRICS in the coming years will also impact on the future of emerging markets and developing economies – especially in the case of Africa.
As part of the developing world, South Africa faces the challenges of poverty, unemployment and inequality. BRICS leaders engage in peer learning and share best practices and development models.
At the New Delhi Summit in 2012, the Indian Prime Minister, Manmohan Singh, outlined 10 specific priority areas. These included job creation; skills upgrading; energy, food and water security; sustainable growth through expanded trade opportunities; clean energy; income inequality; urbanisation; and the impact of the external geo-political environment.
Due to the complex nature of the country's challenges, the South African government has singled out infrastructure development as a key vehicle for improving the quality of life of the people. Infrastructure development is also expected to boost South Africa's competitiveness and create jobs. BRICS partners view South Africa as a springboard into the African continent and a partner for economic development opportunities.
At the New Delhi Summit, President Zuma met with captains of industry from fellow BRICS member states and invited them to join hands with South African companies in the development of Africa.
In the Delhi Declaration, the leaders expressed support for Africa's industrialisation, saying they "attach the highest importance to economic growth that supports development and stability in Africa, as many of these countries have not yet realised their full economic potential".
The BRICS economies, which already constitute between 20 and 25 per cent of global GDP, will link a large part of Africa with the fastest growing economies of the world.
*Nelson Kgwete is Director: Media Liaison at the Department of International Relations and Cooperation.