Written by Noluthando Mkhize
The rise of a new health profession in South Africa is breaking new ground by addressing the shortage of doctors, developing skills and creating jobs.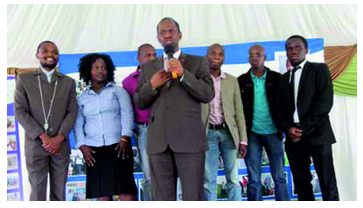 Clinical associates are professionals trained to perform some of the less demanding duties of doctors and are helping curb the county's health challenges.
A clinical associate is qualified to assess patients, make diagnosis, prescribe appropriate treatments and do minor surgical procedures under the supervision of medical officers.
The graduates are positioned above nurses and just below doctors.
During the provincial launch of the programme held at Osindisweni Hospital in KwaZulu–Natal recently, Health MEC Sibongiseni Dhlomo said the introduction of this mid-level category of professionals was part of the seven foundations of South Africa's Human Resource for Health (HRH) model launched by the national Department of Health.
"It is also part of the department's efforts, started in 2004, to explore different avenues of increasing the number of skilled healthcare providers in underserved provinces," explained MEC Dhlomo.
A total of 47 students were selected nationally. The seven chosen from KwaZulu-Natal have already been placed in the rural hospitals of Hlabisa, Ceza, Mosvold, Charles James Memorial, Greytown and Osindisweni.
Mondli Maphumulo, 26, was part of the very first group of clinical associates to graduate. He completed his Bachelor of Clinical Medical Practice degree at the University of Pretoria and started practising at the beginning of 2012.
Maphumulo's story is that of many South African youth, who have had to overcome the challenges of unemployment and poverty. "I was able to beat the odds. I come from very rural KwaZulu-Natal, in a place called KwaMaphumulo. My family could not help me further my studies. I was able to get the bursary and through hard work and perseverance I was able to succeed.
"I am very excited to have been among the first group of clinical associates to graduate. Our job eases the workload of doctors and nurses. Being part of this programme is an indication that South Africa is one step further in developing its health system," he said.
The bubbly Maphumulo, who is now even referred to as doctor by some of his unknowing patients, said it was his dream to study medicine but he did not qualify.
He added that helping people, particularly those who were sick, was his passion. Since Maphumulo began his duties at Osindisweni Hospital he has worked in various departments including the antiretroviral clinic, theatre and emergency unit.
He encouraged other youth to be part of the project because it had great prospects for growth.
The University of Pretoria, University of Witswatersrand and the Walter Sisulu University are offering the Bachelor of Clinical Medical Practice degree required to become a clinical associate.
Dhlomo said for the 2012/2013 financial year 668 students have been offered bursaries and a budget of R107 million was set aside.
For more information contact the Department of Health on 012 395 8000.