Written by Samona Murugan
Each day hundreds of patients, from babies to adults, line up at the Ubuntu HIV Clinic in Khayelitsha - the largest TB and HIV facility in the Western Cape.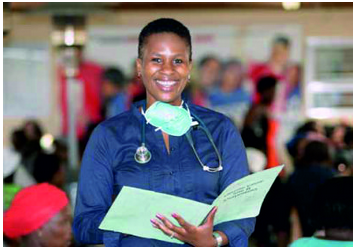 Helping each of them on their road to recovery is 31-year-old senior medical officer Funeka Bango.
Vuk'uzenzele paid a visit to the clinic recently to learn more about this inspirational woman, who is making a difference in the lives of her patients.
In response to the growing epidemic of drugresistant tuberculosis (DR-TB) in Khayelitsha, the Western Cape government, the City of Cape Town and Doctors Without Borders got involved in a pilot project to provide treatment to DR-TB patients at a primary care level in 2007.
Khayelitsha has one of the highest burdens of HIV infection and TB in South Africa and the world.
To bring solace to the community, the Ubuntu HIV Clinic provides residents with the best possible HIV and TB care and treatment, antiretrovirals (ARVs) and health screenings. The Ubuntu HIV Clinic was also the first clinic in the country to roll out ARVs.
Dr Bango and her team are at the forefront of providing these services to those in desperate need of them.
Recalling the day she first joined the clinic in 2006, Dr Bango says, "When I entered the clinic for the first time I was shocked. There were people everywhere - sitting, standing and lying on the floor. People were really sick but now when you walk around our clinic you will see people are healthier. The first few months were extremely hectic but this is where I am supposed to be. I've found my calling."
She administers ARVs and treats patients with HIV/AIDS and TB. In the past six years Dr Bango has seen visible improvements in her patients, thanks to the ARVs that have changed their quality of life.
The Ubuntu HIV Clinic sees patients streaming in from all over the province for treatment, with close to 7 000 patients visiting the clinic every month.
To assist with the patient overload a club for stable patients was created. Club patients are those who are maintaining and managing the disease well.
They get screened, scripted, educated on administering the ARVs themselves and receive a two-month supply.
"If we did not start the club, these patients would have to wait for hours for treatment," says Dr Bango. The club helps the clinic provide services and treatment to patients on a larger scale daily.
Working with sick patients comes with its fair share of highs and lows, admits Dr Bango. The lows, she says, are hearing the struggles her patients face each day but the highs are seeing people get healthy and able to continue with their lives.
Despite the improvements in patients on ARVs, Dr Bango says there is still a huge problem of behaviour that needs to be addressed.
"It is very difficult to change behaviour and we as doctors can't fight that battle alone. By the time we see a patient it is too late, they have already contracted the virus. We need parents, teachers and community leaders to come to the party and play their role in fighting HIV."
"People only rely on government to fight the scourge. Government has come to the party with breakthroughs in research, new hospitals and clinics are being built, the implementation and introduction of the National Health Insurance, HIV Counselling and Testing Campaigns and getting more people on ARVs, but communities must now step up and play their part too."
Communities and families need to lead by example and change their behaviour in order to fight HIV/AIDS, she adds.
Dr Bango lives by the motto, "Dare to accomplish big things by making a difference to others".
With a medical degree, a Diploma in Advanced Health Care Management and another in HIV Management under her belt, Dr Bango is still pushing herself to ensure she is armed with the best knowledge in her field. She is currently completing her Master's degree in Public Health at the University of Cape Town.
For more information on the Ubuntu HIV Clinic contact it on 021 364 9836.