Written by Samona Murugan
Old tyres may no longer be discarded at will by manufacturers and consumers. All companies in South Africa that manufacture or import tyres will have to contribute to the management of old tyres in an effort to prevent them from polluting the environment, while also creating thousands of jobs.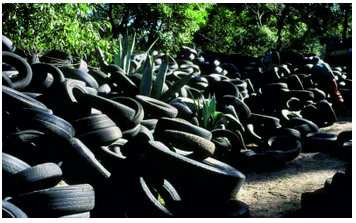 Each year more than 200 000 tons of tyres in South Africa become waste. About 11 million of these are dumped illegally or burnt to retrieve the steel wire in the tyre. This figure is estimated to increase by around 9.5 per cent every year.
Only five per cent of the waste tyres are reused, recycled or burnt for the small amount of metal that can be recovered from them. The bulk is left to take up space at illegal storage sites throughout the country, causing fire hazards and a breeding ground for mosquitoes.
Regulations
To tackle the problem, the Department of Environmental Affairs developed the Waste Tyre Regulations, which came into effect in June 2009, and gives producers an opportunity to decide how they want to manage and finance the tyres once they become waste.
Minister of Environmental Affairs Edna Molewa has also published the Integrated Industry Waste Tyre Management Plan (IIWTMP), which is overseen by the Recycling and Economic Development Initiative of South Africa (REDISA) for immediate implementation.
The REDISA plan was gazetted on 30 November 2012 for immediate implementation, giving producers until 30 January 2013 to register.
Currently, REDISA is the only approved IIWTMP in the country. All tyre producers registered with REDISA must immediately comply with the approved IIWTMP and those that are not registered must do so by 30 January 2013. The IIWTMP also promotes job creation and is aimed at creating close to 15 000 jobs, which will include the collection, transportation, storage and processing of waste tyres.
Management
Funding for the plan will come from a tyre levy. REDISA will charge tyre manufacturers and importers a levy of R2.30 per kilogram. Among others, the funds will be used to create small- to medium-sized businesses related to the collection, transportation, storage and recycling of the waste tyres.
The plan is intended to ensure that when it comes to the management of waste tyres, the disposal of tyres is the last resort and recycling, re-use and recovery of energy are the preferred options.
This will control the impact waste tyres have on the environment, which include health risks associated with mosquito and vermin breeding, as well as fire hazards and air pollution from the burning of tyres.
This approach will extend the life span of landfill sites, especially since land for the development of these sites is scarce. The plan is also aimed at establishing and encouraging a vibrant recycling sector, through research and development initiatives. Products that can be derived from recycling tyres include rubber, oil, bricks and tiles.
For more information contact the Department of Environmental Affairs on 012 310 3911.