It is 100 years since the Native Land Act of 1913 was enacted, reserving 87 per cent of the land for white South Africans while evicting blacks from their ancestral land. As the country prepares to commemorate 19 June 1913, when the Act was passed by the Parliament of the day, efforts to undo this historical injustice continue apace, albeit at a slower rate than anticipated.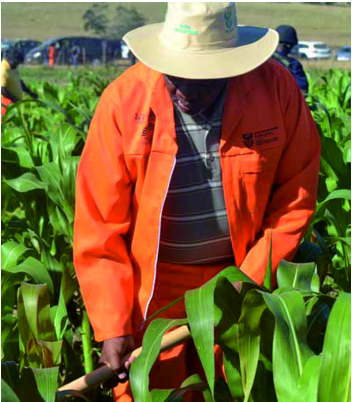 Driving the process of land restitution is Minister of Rural Development and Land Reform Gugile Nkwinti.
Following the democratic elections of 1994, government undertook to transfer 30 per cent of land (24.5 million hectares) to black farmers by 2014, a target that is unlikely to be met, as Minister Nkwinti admits.
"We have transferred about three million hectares now which is very little, making only 7 per cent of land that is redistributed. It's a challenge, this 30 per cent by 2014 is a challenge and I hope we will get there but I'm not very optimistic. I'm not chasing numbers, I'm chasing development and food security."
Minister Nkwinti identifies two main challenges in efforts to redistribute land. The first challenge is that only 37 000 commercial farmers are responsible for 90 per cent of food production in the country. "That is unsustainable," he says. "That figure, 10 years ago, we are told by research, was about 90 000 and that figure does not reflect redistribution; it reflects a deeper concentration of ownership in fewer hands," he explains.
Minister Nkwinti argues that, over the past 100 years, there have been shifts in terms of land ownership. "Some people say we are talking about 87 per cent (of land in white ownership) and 13 per cent (of land in black ownership), but things have moved since 1994. There are many people who bought land and there are many people government has bought land for."
He adds that the exact figure will only be published once the land audit process is concluded. Minister Nkwinti says 95 per cent of the state land audit has been completed.
He adds that land reform should not just be about how much land is given back to claimants, but should include skills transfer. According to the Minister, claimants should be empowered to use land productively for job creation, food security and attract young people to farming.
He says the unstructured taking over of productive farmland and handing it over to unskilled people is not doing government any good. It also creates social ills such as crime and unemployment, especially in townships where municipal resources get depleted as a result of an influx of people whose land has been taken away by government without assisting them in developing their skills.
Making a difference
In 2009, the department introduced one of its key programmes called the Recapitalisation and Development Programme (RADP) after a study conducted between 2005 and 2008 revealed that over 3 000 farms were not doing well. The department put the farms under the RADP.
The programme aims to increase the number of farms producing food for households, create jobs, improve income for farmers and employees, increase the capacity of emerging farmers and increase productivity levels on farms.
"To ensure the success of these farms, the department selected strategic partners who are farmers or have experience in farming as mentors for the emerging farmers," he explains.
The Minister says big farming organisations such as Grain South Africa lauded the programme and were happy with the impact it has on developing new farmers. "They say the recapitilisation programme is rapidly closing the gap between what we historically know as emerging farmers and commercial farmers."
Minister Nkwinti says for government to succeed in reversing the brutal eviction of 1913, it should assist beneficiaries with skills to manage the farms they have acquired.