After spending years working as a waiter at the Barclays Bank canteen and later at Anglovaal Mining, Daniel Mabuza says his biggest regret is not quitting sooner to start his own project. Mabuza, 70, retired from the Johannesburg mine in 2003 and returned to his home village of Ezekhaya, about 50km outside Tzaneen, Limpopo.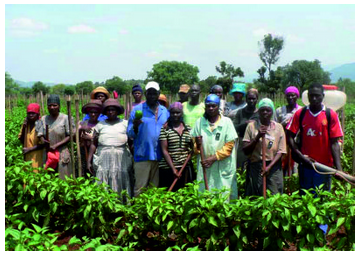 He knew then that his pension money would not sustain his family for long, so Mabuza risked all his earnings by investing in an agricultural project.
Ten years down the line, that project now employs 20 permanent workers and a further eight seasonal workers.
"My biggest regret is that I wasted a lot of time working for other people. I wish I had quit my job earlier and became a farmer while I was still a young man," he says.
Mabuza adds that had he started earlier, he could have used his youthful energy to benefit his family and community.
He began the agricultural project in 2003 taking advantage of the available 56 hectares of land he inherited from his late father.
"Then I was just focusing on poultry and goat farming, and also ploughing on two hectares of land."
It was only in 2009 that he registered a cooperative through the help of the Small Enterprise Development Agency (Seda).
The cooperative, known as Phangweni's Eden Farm Cooperative, now supplies tomatoes, butternut, green pepper and sweet potatoes to many clients, including retail giant Massmart.
"Seda helped us register the cooperative and also trained us in bookkeeping. They have been helpful in marketing this business. It was through their facilitation that we got a tractor from the Department of Trade and Industry (dti). The dti also promised us more irrigation pipes and two water tankers," says Mabuza.
The Department of Agriculture also installed an irrigation system on 2.5 hectares of land, which Mabuza is grateful for.
"The support from the department is very encouraging. Not only did they assist with the irrigation system and the demarcation of hectares, but they also gave us a borehole, a generator, compost and a fence, though not yet erected," he adds.
The department's help came through at exactly the right time.
"Part of the requirement of the deal we signed with Massmart in 2011 was that we should be able to plough on a five hectare land and the department came through for us by installing the irrigation system. We could only afford to install the system on 2.5 hectares of land, so their support is invaluable. They continue to offer advice and constant monitoring," he says.
Phangweni Eden Farm Cooperative's initial deal with Massmart was for one year but the cooperative has since signed a three-year deal with the company.
Mabuza admits though, that it is not always smooth sailing.
"We don't have a shelter in this farm which is quite challenging for us when it rains. We also need assistance with an additional borehole and electricity connection," he points out.
Maria Shokane, a 39-year-old mother of two says the skills she gains working on the nearby farms are proving useful.
"Every day is a learning day and we love it. The project has given us a chance to feed our families," she adds.
*Odas Ngobeni works for GCIS in Limpopo.