The Department of Justice and Constitutional Development has confirmed that a marriage of convenience comes with a 15-year jail sentence.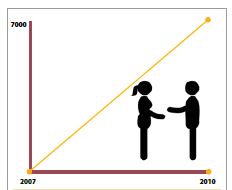 According to Department of Justice and Constitutional Development senior legal administrator Josephine Peta, there has been some abuse of the process of applying for a marriage certificate in the country.
"Some foreign nationals arrive in South Africa as visitors and claim asylum status. They then buy or rent a wife or a husband to obtain South African citizenship," she said.
"It has been discovered that the going rate for such a practice is between R10 000 and R 50 000, as a once-off payment. At times, a South African national can be rented for R2 000 a day," said Peta.
The practice does not only involve the parties to the 'marriage' but also marriage officers and officials from the Department of Home Affairs, who operate as a syndicate and collude to defraud the government and the citizens of South Africa.
"On acquiring citizenship, the foreign national and the consenting South African partner get divorced, leaving the window open for their 'real' spouse and children from another country to join them in South Africa."
 The consenting South African then approaches the Department of Home Affairs and plays the victim, claiming that he or she has never met the husband or wife.
Peta describes a marriage as a legal contract between two consenting adults.
"Marriage cannot be taken lightly and be abused for the purposes of obtaining citizenship. When a consenting South African engages in such practices they are also committing fraud."
Once the status of an unmarried person changes it also limits their eligibility to obtain certain benefits from the government such as a SASSA grant.
Such marriages can never be dissolved by divorce, they can only be annulled by the High Court according to South African law. In this case, the 'victim of fraud' has to pay exorbitant legal fees to have the marriage annulled.  
Did you know?
Between 2007 and 2010 about
7 000 marriages of convenience or fraudulent marriages took place.
How to verify your marriage
The Department of Home Affairs has created a facility for the public to check their marital status.
SMS the letter M, followed by your South African identity number (example: M 5001010050080) to 32551. You will receive a reply SMS confirming your marital status and the date of your marriage. R1 per SMS is charged by your service provider.
Curbing the problem
The Department of Home Affairs has introduced a new biometric system where every party to a marriage has to put their fingerprints on the documents, prior to the marriage certificate being issued.

 

The South African Citizenship Amendment Act has introduced stringent requirements regarding the acquisition of citizenship.  In terms of the Act, which was promulgated in 2013, foreign nationals are required to be in South Africa for eight years before they can apply for South African citizenship

.