Written by Maselaelo Seshotli
It is the festive season and many people will be spending a lot of time outdoors, exposed to the sun.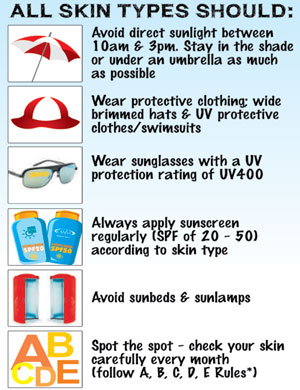 Spending too much time in the sun without protection can be bad for your skin and can cause wrinkles, age spots and other skin problems as well as increase the risk of skin cancer.
Vuk'uzenzele has compiled advice on how both parents and children can protect themselves while having fun in the sun. Here are some tips:
Parents must take extra care of their children's, particularly infants, skin by applying sunscreen and insisting that they wear a hat. Parents and guardians should also consider choosing a baby sunscreen, which contains a Sun Protection Factor (SPF) of at least 15.
Contact a health professional to help you choose the right sunscreen for your child.
When spending time in the park for a picnic or a day at the beach parents must keep children in the shade as much as possible.
Parents should consider dressing children in loose fitting clothes and fabrics that have an Ultraviolet Protection Factor (UPF) rating.
Parents should make use of a broadspectrum sunscreen with a SPF of 30 or above and it should be applied 15 – 20 minutes before going outside.

Source: cansa.org.za