Sport, arts and culture
South Africa's future sport stars are being given a push towards their dreams, thanks to the Transnet Rural and Farm Schools Tournament.
The tournament took place at the Germiston Stadium in Gauteng recently and saw upcoming sports stars between the ages of 13 and 19 from schools across the country battling it out for top honours.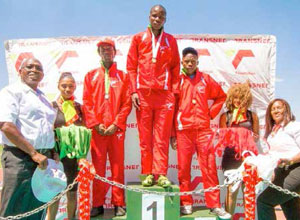 The tournament is part of the Transnet Rural and Farm Schools Sport Development Programme, which falls under Transnet's sporting portfolio.
The programme aims to develop South Africa's sporting talents by granting teenagers from under privileged backgrounds with the opportunity to showcase their talent.
This is done by providing sports training, facilities and infrastructure to rural communities to benefit the young people living there. They are also coached and managed by professionals who develop their raw talents.
Transnet also nurtures future sport stars in partnership with the South African Football Association (SAFA) through the SAFA/Transnet School of Excellence.
Scouts attend the Transnet Rural and Farm Schools Tournament in search for talented youngsters, who are then given the opportunity to join the SAFA/Transnet School of Excellence.
Every year 120 boys are chosen to attend the school, where they receive comprehensive education, with a focus on academic skills, life skills and an opportunity to excel in their sporting careers.
The tournament runs every year and includes sports such as soccer, netball, athletics and chess.
Chess was only recently introduced, for its benefits in cognitive development.
Soccer players Itumeleng Khune and Jabu Pule also shared their wisdom at the tournament's awards ceremony.
Speaking at the tournament, Transnet Board Chairman Mafika Mkwanazi said: "We are dedicated to building a healthier, better educated, safer and skilled population that is positive about our country and motivated to grab the opportunities that empower them to live fulfilled lives. And to our learners…may you continue to live by your passion in sport."
Only 2 000 students make it to the tournament, after inter-house competitions with more than 22 000 learners competing from all over the country.
Transnet Foundation's Senior Sports Manager Michael Moloto said: "Each and every year we hold this competition, and see greater and more inspiring results. There's an amazing, positive spirit amongst learners and coaches, and we can see they're motivated to win and do well. We are very happy and proud to help South African learners in this incredible journey from grassroots to glory."
During the athletics competition Eastern Cape came out tops, claiming 22 gold medals, followed by KwaZulu-Natal with 20.
Northern Cape was overall winner for the chess category, with two gold medals and KwaZulu-Natal was placed second.
Northern Cape also dominated on the soccer field with two gold medals. Mpumalanga came in second place with two silver medals and a bronze.
KwaZulu-Natal was the best province overall.
Khune encouraged the budding sports stars to dream big.
"Like many of the learners sitting in the grand stands, I was one of you. When I was young, I would sit and watch the game, looking up to sports stars, such as Jabu Pule and dream about becoming a great soccer player. Now I am playing for one of the greatest teams and captained the national team, showing everyone involved that determination can make all your hopes a reality," he said.