Written by Noluthando Mkhize, SANews
Since the outbreak of the Ebola Virus Disease (EVD) some six months ago, countries across the world are scrambling to fight and control the disease.
In recent months more than 5 500 people have contracted the disease and over 2 500 have died.
While African countries such as Guinea, Sierra Leone and Liberia are still battling to control the virus, South Africa is out of the woods with no suspected or confirmed cases of Ebola in the country and its neighbouring states.
Despite no Ebola cases reported in South Africa, government has stepped up its efforts to control the disease to ensure the country's readiness.
The Department of Health has also reassured South Africans that health care workers are ready to deal with any cases of infection.
Finance Minister Nhlanhla Nene also announced during this Medium Term Budget Policy Statement, that Treasury allocated an additional R32,6 million to the department to prevent the spread of Ebola to South Africa.
Outbreak response teams
Health Minister Dr Aaron Motsoaledi announced that all provinces have trained outbreak response teams and have regular meetings at national level to monitor the Ebola outbreak and preparedness measures.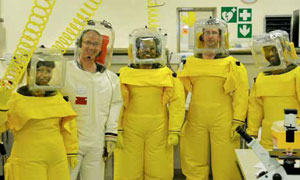 "The department monitored the risk and assessed the situation as the outbreak unfolded. Risk of infection for travellers is low, since [EVD is] not transmitted through casual contact. However, preparedness and response measures are needed due to the spread of EVD cases to capital cities," Minister Motsoaledi said.
Gauteng, Western Cape and KwaZulu-Natal have been identified as the provinces at the highest risk for importation of cases. Priority ports of entry are OR Tambo, Lanseria, Cape Town and King Shaka Airports.
The surveillance for viral hemorrhagic fevers, in particular EVD, has been strengthened at ports of entry and thermal scanners have been installed at the OR Tambo and Lanseria Airports.
The National Health Laboratory Service and the National Institute for Communicable Diseases have also intensified laboratory surveillance and the port health services, including public and private health care practitioners, are on alert for any ill persons that have travelled to very high-risk areas.
Each province has designated health facilities to manage EVD cases in 11 designated hospitals. Personal protective equipment (PPE) has also been placed at designated hospitals.
The 11 hospitals are Polokwane in Limpopo, Rob Ferreira in Mpumalanga, Charlotte Maxeke and Steve Biko in Gauteng, Addington in KwaZulu Natal, Klerksdorp in North West Pelonomi in Free State, Kimberley in Northern Cape, Frere in East London Livingstone in Port Elizabeth in Eastern Cape and Tygerberg in Western Cape.
All PPE kits include one overall, a pair of over shoes, a pair of N95 masks, two pairs of gloves, one white plastic apron and one set of goggles.
Approximately 100 registered nurses at the South African Military Health Service have been trained in (biosafety level) BSL-4 isolation techniques. Aeromedical evacuation teams have also been trained in BSL-4 isolation techniques, and they are able to collect and transport Ebola patients by air using transport isolator and intensive care equipment.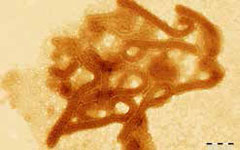 How the Ebola Virus Disease spreads
The EVD cannot be spread through casual contact but is rather transmitted from person to person through direct contact with blood or infected tissues from an infected person. Health workers and family members of infected persons would be at risk.
The disease can then spread in the community through human-to-human transmission, with infection resulting from direct contact through broken skin or mucous membranes with the blood, secretions, organs or other bodily fluids of infected people, and indirect contact with environments contaminated with such fluids.
Signs and symptoms
EVD is a severe acute viral illness often characterised by the sudden onset of fever, intense weakness, muscle pain, headache, and sore throat.
This is followed by vomiting, diarrhea, rash, impaired kidney and liver function, and in some cases, both internal and external bleeding.