Eight years ago Zandile Mqwathi, 31, found out she was pregnant and HIV positive. She was scared and unsure of how those around her would treat her.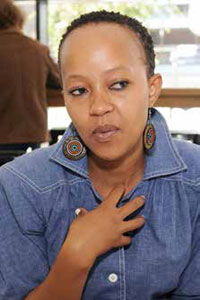 "When I found out I was frightened and questioned what people would think of me. Eventually I decided to stop worrying about other people and I chose to tell my story of living with the virus as a way of healing," explained Mqwathi, who is from Slovoville in Pretoria.
Although she sometimes feels as if people are judging her for having HIV, Mqwathi is determined to make her voice heard and in the process, educate others about the disease.
"When you tell people about your sickness, they automatically assume that you are promiscuous and this is how you got the virus which is not always the case."
Mqwathi said after discovering her status she was immediately put on the Prevention of Mother to Child Transmission (PMTCT) programme to ensure that her baby did not contract the virus.
The Department of Health runs the PMTCT programme. When a pregnant woman goes to a clinic or hospital for her first antenatal visit, she is offered routine HIV counselling and voluntary testing.
If she is found to be HIV positive, she will have the option to join the PMTCT programme free of charge. Her CD4 count is also taken and she is placed on anti-retroviral treatment (ARV).
It was this programme that helped ensure Mqwathi's son who is now eight years old is HIV negative.
Mqwathi said she has made taking care of herself a priority.
"Living with HIV is not easy, its not just about taking the medication but there is a whole support system associated with ensuring that you are healthy. I have to make sure I eat properly, remind myself to take my medication at a particular time everyday, drink a lot of water and rest."
"What people need to realise is that you need to have a good quality of life when you are HIV positive. It's very important to take your ARVs but you also need psychological support from your family, support group or psychologist which must be on-going to help you cope."
She stressed that living with HIV was about more than juts taking medication.
"If you are an HIV positive person listen to your body, know exactly what type of lifestyle you need to avoid. Make it your business to care about your well-being and ensuring your immune system is strong."
Young people in particular, need to take responsibility for their lives.
"Young people are aware of the virus but they are complacent when it comes to prevention. They don't realise that being HIV positive is hard and very costly, which puts a huge burden on our economy as a country because ARVs are expensive.
"How is it possible that as a young person decides not to use a condom or take ARVs when you they are aware of the devastating effects of the HIV and AIDS?"
Her message to all young people is to look after their health and make the right decisions, while she advises those living with the virus to have a positive attitude.
Apart from being an HIV and AIDS activist Mqwathi is also studying towards a degree in Drama Therapy.
Zandile Mqwathi is also a motivational speaker and can be reached on zmqwathi@yahoo.com for motivational speaking.