Written by Edwin Tshivhidzo
Police Minister Nkosinathi Nhleko assured South Africans that security would be beefed up during the festive season.
"We will increase the number of police officers throughout the country to ensure the safety of all South Africans during the festive season," he said.
Speaking at the launch of the festive season safety campaign Operation Duty Calls, in Escourt, KwaZulu-Natal, Minister Nhleko called on communities to report or expose any criminal activities in their communities. "As government, we need your assistance in fighting crime," he said.
Minister Nhleko said the festive season safety campaign would focus on armed robberies, liquor outlets, social crimes, tracking wanted criminals, road safety campaigns and border patrols.
The campaign would also be extended to rural communities throughout the country where stock theft was still a problem.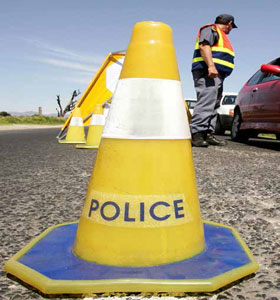 Operation Duty Calls will run up to the end of January 2015. The campaign will also focus on clamping down on a number of criminal activities, which include drug abuse and dealing as well as cash-in-transit heists and ATM bombings.
During the campaign, the South African Police Service (SAPS) will raise awareness on how people can ensure the safety of children over the festive season.
Also as part of Operation Duty Calls high visibility patrols will be increased along tourist destinations, especially in coastal cities.
The campaign is being carried out jointly with the Departments of Defence, Home Affairs and Justice and Correctional Services. National Police Commissioner General Riah Phiyega also called on communities to expose any suspicious activities in their communities.
"Ensuring your safety is our daily task. We do not only focus on it over the festive season. We discuss and devise ways of responding to crime in South Africa throughout the year.
"We have realised the importance of involving you, the people we serve, to give you a say in how policing should be implemented in your community," she said.
She noted that high crime incidents occur between October and January each year.
"The SAPS is particularly concerned about the high rate of armed robberies at malls and shopping centres in all the provinces, but especially in Gauteng and the Western Cape. According to an analysis carried out by our Analysis and Monitoring Section, armed robbers at shopping centres mostly target chain cell phone shops as well as clothing shops, second-hand dealers and hardware shops."
General Phiyega said based on the analysis, the SAPS issued a new instructions dealing directly with these crimes.
"We have therefore increased our efforts to curb these crimes. All Provincial Crime Combating Forums (PCCFs) are ready to participate fully in our efforts to respond to these robberies and related crimes in all the identified hotspots."
General Phiyega told the local community that police had the safety and security of all law-abiding citizens at heart.
"We are very concerned about criminality and we respond to any element of criminality in the best possible way," she said.
General Phiyega said the campaign would also focus on ensuring the safety of women and children.
A resident of Wembezi, an area within Escourt, Sizakele Sikhakhane, said she was happy the number of police would be increased in her area during the festive season.
She said the community was tired of criminals who prey on them during the festive season. Many locals shared Sikhakhane's sentiments, saying there were many criminals who must be arrested.
The launch of the campaign has brought hope to the locals, who said they were looking forward to a crime-free festive season.
If you have any information about criminal activities call Crime Stop on 0860 0 10111 or SMS Crime Line on: 32211 or visit www.crimeline.co.za