Written by Maselaelo Seshotli
Youth matters
Shortly after Collen Zwane, Charlene Mazibuko and Siyabonga Skhosana matriculated, they decided to start a cleaning services company to create jobs in their community.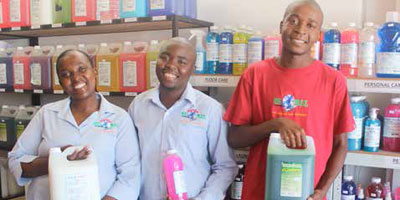 Mpumalanga-based Mnandi Global Cleaning Services, which started in January 2014, supplies cleaning chemical supplies to businesses and schools in Lekazi and neighbouring towns.
The team, who are all in their twenties, joined forces with Greg Kihu, an established businessman in the chemical manufacturing industry, to gain knowledge about the industry.
The partnership resulted in a contract between the two businesses in which they agreed to work together.
Today Mnandi Global Cleaning Services sells, distributes and markets cleaning chemical products manufactured by Kihu's company.
"We heard about the NYDA from a friend who encouraged us to make contact and apply for financial assistance," said Skhosana.
Within five months the NYDA gave the trio R10 000 worth of funding to help them get their business off the ground.
"We used the money for our distribution costs and uniforms. We were impressed by the NYDA as they gave us speedy and professional assistance," Mazibuko said.
The NYDA ensured that the trio got training in business management and also offered to do branding for their business.
"We consider the NYDA as mentors more than anything because not only have they given us funding and sent us for courses, but they always come back to review how we were progressing," said Zwane.
Since the business started, it has secured 230 customers.
The company also employs a few part time workers who do marketing and deliveries.
"It has not been easy for us. There have been a few challenges we encountered in managing the business but the most stressful one is the lack of our own transport," said Zwane.
Mazibuko said it took hard work, determination and discipline to run the business.
"As a team we have all three qualities. We understand that our business is still growing and we ensure that whatever income comes in goes into the business account," said Mazibuko.
For now the business is only selling cleaning products as it focuses on generating income.
"The income made will allow the business to expand and we can buy our own cleaning machines and employ people to operate and do the physical cleaning," said Mazibuko.
The trio's future plans include being completely independent, employing more people as permanent employees and expanding the business to other areas.
The advice the team offers to other young people is to make things happen for themselves and stop relying on government for jobs.
For more information, contact NYDA call centre 0800 52 52 52