Infrastructure
The opening of Transnet Wagons Refurbishing Facility in De Aar has injected economic activity into the quiet town south of Kimberly, Northern Cape.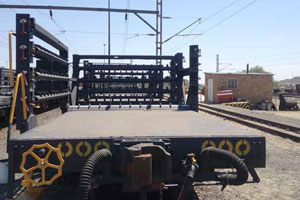 The Minister of Public Enterprises, Lynne Brown, and the Premier of the Northern Cape, Sylvia Lucas, officially opened the wagon refurbishment facility, a Youth Multi-Purpose precinct and handed over two houses to poor families.
Transnet's Profit Centre unit is responsible for the facility.
The centre's manager Timothy Jonas said the facility had created jobs and some of those working at the facility had also bought property in De Aar, giving the economy of the small town a boost.
Currently, the facility is responsible for repairing old and run down wagons that are 10 years old.
"We are responsible for refurbishing old wagons that are due to be scrapped," explained Jonas.
The facility repairs two types of wagons, the first type is NDZLJ 1 and NDZLJ 2. NDZLJ1 wagons are used to carry rail tracks while NDZJ 2 clalmp the rail tracks ensuring they don't fall off during transit. The wagons are 13 metres long and two metres wide, weighing 42 800 kilograms. When it was opened, the facility set a target of repairing 163 wagons for the current financial year.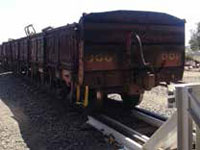 By end of October, 83 NDZLJ 1 wagons had been repaired and only 80 were still in need of repair. Twenty-five NDZLJ 2 wagons were repaired by end of October, with only six more in need of repair. Jonas said they are expecting new targets from March 2015. The facility employs 47 people, 22 of them from De Aar and the others are from surrounding towns. It is estimated that about 300 direct and indirect jobs will be created through the facility.
Jonas said the opening of the facility has sparked interest in rail engineering from the community.
"Since we opened, most of the young people from De Aar have shown an interest in what we do."
Transnet opened a Youth Precinct targeting orphans and homeless people from De Aar.
It consists of:
A youth shelter for 20 homeless boys. The shelter aims to take boys off the streets and place them in a healthy environment where they can be rehabilitated and equipped with self-sustaining life skills.
A youth educational centre. The centre offers, among others, access to a library, career information, higher education information and health care. The aim of the centre is to give young people information and knowledge that will create informed and inspired young people.
A youth recreational park. The park is a positive environment for the youth to socialise in safe surroundings. This will consist of, amongst other things, an outdoor amphitheatre an outdoor chessboard and a basketball court.
A youth enterprise development programme. Funded by Transnet Property, this programme targets boys older than 18 who are working as artisans. The boys will be trained to form their own small enterprises and contracted to maintain Transnet properties.
Youth volunteers. The volunteers will hold monthly activities aimed at helping the youth to value and contribute positively to their communities.