Infrastructure
Residents of Soweto will now find it a little easier to leave their cars at home and take to the streets on a bicycle instead.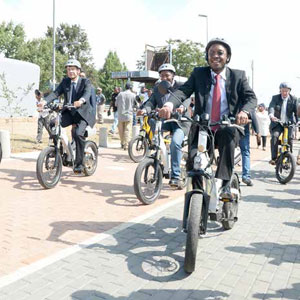 The Department of Environmental Affairs, in partnership with the City of Johannesburg and the German government, recently launched the Orlando Cycles Paths & Complete Streets project in Orlando.
The project is aimed at making the city environmentally friendly, giving residents an alternative to private cars, reducing greenhouse gas emissions, promoting renewable energy sources and creating climate change awareness.
As part of the project, the city constructed 5km of walking and cycling paths in Orlando. The route connects schools to residential areas as well as schools and residents to facilities such as the Orlando Stadium and the police station as well as Rea Vaya BRT and Metrorail stations.
Gauteng MEC for Roads and Transport Ismail Vadi encouraged the community to use bicycles to get around and keep fit.
"We are here to promote cycling as a way of life," said MEC Vadi, who is an avid cyclist. He stressed that using bicycles to get around was also better for the environment.
MEC Vadi said the population is increasing and finding alternative modes of transport would reduce time in traffic, increase health in the country and benefit the environment.
City of Johannesburg Executive Mayor Parks Tau said he was happy about the new infrastructure in Orlando.
"It is time to celebrate progress, progress that is achieved in terms of the infrastructure in our communities and also progress with regard to creating a consciousness about how we treat ourselves and our bodies," he said.
The Mayor added that this type of infrastructure aimed to improve people's health and that of the environment.
"We ensure that we give you, our future a better chance for a better environment, with limited impact of climate change and environmental blue prints on your future and the future of generations that come after you," he added.
Tlou Ramaru, Chief Director at Environmental Affairs, who represented the department at the launch, said the project had a socioeconomic impact on the environment.
"This programme is a socio-economic benefit as it benefits your health, through cycling and saves you money on transport and petrol."
He said the department hoped the project would reduce carbon emission and greenhouse gases.
The project, valued at R16,2million, was funded by the German government.