Youth matters
Nineteen-year-old Nonhlanhla Seerane is following her dream of becoming an accountant thanks to the Solomon Mahlangu Scholarship Fund.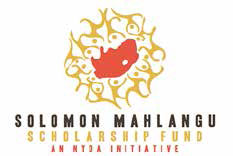 The R20 million Solomon Mahlangu Scholarship Fund was launched by President Jacob Zuma early this year and targeted 200 young people who performed well in their 2013 matric exams but did not have the money to further their studies.
The Department of Higher Education and Training contributed R10 million to the fund while the National Youth Development Agency (NYDA) contributed an addition R10 million.
Seerane is one of the students who have received the scholarship. She is currently studying towards a Bachelor of Accounting degree at the University of Johannesburg.
She completed her matric in 2013 and got 63 per cent Mathematics, 90 per cent Accounting, 75 per cent Economics , 78 per cent Business Studies, 77 per cent English, 89 per cent Sepedi, 61 per cent Tourism and 81 per cent Life Orientation.
The scholarship covers tuition fees, food, books, accommodation and a stipend.
The 19-year-old teenager, from Bushbuckridge in Mpumalanga, says the scholarship has given her a chance to realise her dreams.
"This bursary will enable me to support myself and my family and I'm also planning to give back to my community by volunteering to mentor young people from my school who would like to become accountants."
Seerane is the only one from her family to go to university. She has three older sisters and two younger sisters.
Though at the beginning of the term she struggled to cope, she says the support from the National Youth Development Agency (NYDA) has come in handy.
"They check on us to see how we are doing and the support from them is important, it helps us cope with the new environment," she explained.
Nineteen-year-old Ben Hloai from Vereeniging, Gauteng, has also been given a chance to realise his dream of becoming a logistics expert. Hloai is currently studying for a degree in Logistics Management at the University of Johannesburg.
Just like Seerane, the scholarship pays for his tuition, meals, books and accommodation. He added that the support received from the NYDA psychologist came in handy when faced with problems.
"They've given us numbers of someone who we can speak to when we have issues to deal with especially in this fast-paced environment."
Hloai says leaving his home in Vereeniging to study Johannesburg required a lot of adjustment but he is coping with his new environment.
For more information about the Solomon Mahlangu Scholarship Fund go to the NYDA website: www.nyda.gov.za
NYDA Call Centre: 0800 52 52 52
Email: info@nyda.gov.za