Written by Maselaelo Seshotli
After Simangaliso Khoza saw the difficulty people living in Pienaar, Mpumalanga, would go through to find ice for functions, he decided to do something about it.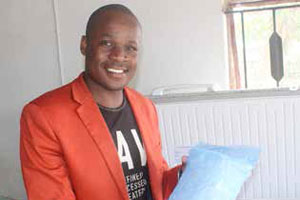 Khoza did some research on ice manufacturing and purifying and then started an ice-making business Empire Cold Stones. He started off with just one ice making machine, which he bought using his savings, and a second-hand fridge.
"It was not been easy to get the business off the ground as many people feared that the water was not purified and questioned whether it was safe enough for them to consume," said Khoza.
But with support from the community, family and friends, the business is growing, which prompted Khoza to approach the National Youth Development Agency (NYDA) for financial assistance.
The NYDA not only helped the business with an ice making machine called MV 606, worth R50 000, and a plastic sealer, but also provided him with business management training, which he completed.
Today, Empire Cold Stones products are sold in petrol stations and shops in his community. The business has also created permanent jobs for two people and part-time employment for two others.
"There is no bidding contract with most of the businesses I supply, but I always ensure that my product is of the best quality to satisfy my clients," he said.
The 30-year-old explained that the ice is usually in demand during the weekends when people host functions.
To market the business Khoza uses word of mouth, social media and community radio stations.
Khoza's future plans for his business include getting a bigger manufacturing space, distributing to more businesses, and expanding the products.
"The business name will soon change to Empire Still Water and Ice because I plan to move into water bottling and branding as the business grows," said Khoza.
He added said that the past 20 years since democracy had brought a lot opportunities for the youth.
"The youth just needs to find information that will empower and help them move forward," he said.
For more information, contact NYDA call centre 0800 52 52 52