Every South African has a responsibility to report incidence of abuse against women and children.
These are sentiments shared by Nomsa Dombo and Advocate Lida van Schalkwyk - the two ladies who are part of a team that runs the Mamelodi Thuthuzela Care Centre (TCC) in Pretoria.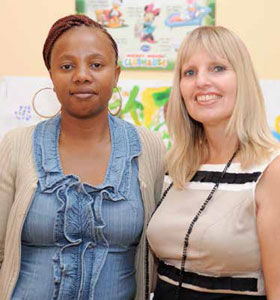 Dombo is the site coordinator and Van Schalkwyk works with the National Prosecuting Authority (NPA) as a state prosecutor ensuring that victims of abuse get justice.
Thuthuzela Care Centres are one-stop facilities and are aimed at preventing secondary victimisation of rape and abuse victims, improving conviction rates, and reducing the time taken to finalise cases. There are 50 TCCs across the country.
The Mamelodi TCC receives between 35 to 50 cases a month. Most of these involve young people between the age of 13 and 17.
Dombo and Van Schalkwyk have been working at the TCC for six years and have witnessed the impact of rape and abuse on a victim.
"Rape is a very traumatic experience, the victims that come in to see us are traumatised. Some of them feel dirty and want to take a bath immediately after the incident, which is something they should not do because specimens are taken and form part of evidence collected.
"Some victims want to get the smell of the perpetrator out of their skin and want to bath over and over. Others relive the experience and experience flash backs, this is where counselling is crucial to empower the victims," said Dombo.
Most TCCs operate at public hospitals, clinics, or police stations and are close to communities where incidences of rape are particularly high. They are also linked to Sexual Offences Courts.
TCCs are open 24 hours a day, seven days a week and a rape case can be reported directly at a TCC.
When a victim walks into a TCC they receive immediate medical attention, which includes a medical examination, counselling, medication to prevent HIV and pregnancy.
Police then help the victim open a case. Staff at the TCC arrange on-going counselling and court preparation if the trial continues.
Every TCC has a doctor, nurse, member of the police on call, social worker and a victim assistant officer. It also has child friendly rooms with teddy bears and colourful chairs that make a child feel more at ease when speaking to the police or a counsellor.
Dombo adds that it helps with the investigation if the rape is reported immediately as evidence can then be collected as soon as possible.
"Once victims report the incident and all medical examinations have been done they receive counselling for as long as they need it."
Van Schalkwyk gets involved when court processes begin.
"I prepare the victims and make sure they know exactly what to expect when they are in court. I show them were the accused will be seated because some people have never been to court. If a child is involved they are placed with an intermediary in separate room from the court," she explained.
With the country marking the 16 Days of Activism for No Violence Against Women and Children campaign (which started on 25 November ends on 10 December), Dombo stressed the importance of every member society to playing a role in dealing with abuse.
"Parents need to know where their children are at all times, even when children are playing they need to be constantly monitored. Mothers also need to have a close relationship with their teenage daughters teaching them more about the appropriate age to have sex," she said.