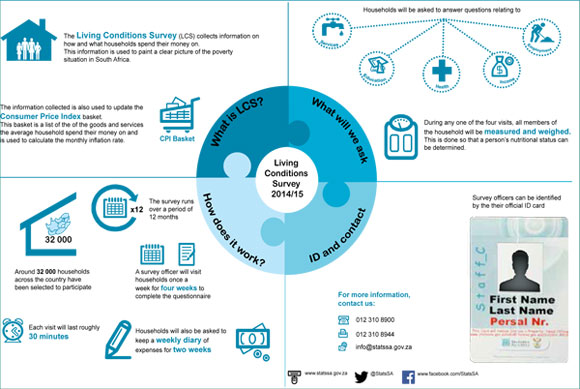 Data Collection for the Living Conditions Survey (LCS) 2014/15 conducted by Statistics South Africa (Stats SA) started on 13 October 2014. The LCS data is used to monitor and profile the poverty levels in the country and also provides the necessary data to inform the development and maintenance of household national accounts and monitor inequality. Fieldworkers will visit households throughout the country to collect data from household members through a questionnaire.
The LCS is a household-based survey that collects detailed income and expenditure data, as well as information on education, housing, social welfare, health and living circumstances from households across South Africa.
The survey will be conducted for a period of a year from October 2014 to October 2015. The data gathered from the survey will also be used to update the Consumer Price Index (CPI) basket of goods and services and also to meet the international reporting obligations of the Millennium Development Goal (MDG's). The data will in addition be used to update and maintain poverty lines.
About 32 000 dwellings/houses across the country's nine provinces were scientifically selected to participate in the survey. A survey officer will visit the sampled home to administer a questionnaire over four weeks. Visits will be done weekly to complete the questionnaire. The sampled household will also be required to keep a weekly diary of all expenses for two weeks
During any one of the four visits, all members of the household will be measured and weighed. This is done so that a person's nutritional status can be determined.